Sweet Onion Time: Maui Onion Festival, May 7, Kaanapali, Maui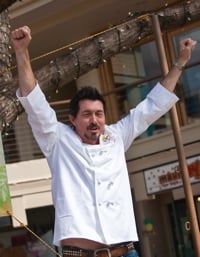 The Granex onion grows small and sweet on the Kula slopes of Maui's Haleakala.
It's such a good onion that it has its own festival. The 22nd Maui Onion Festival comes to Whalers Village, Kaanapali, Maui, on May 7.
Expect all things onion. Celebrity chef demonstrations (Roy Yamaguchi, D.K. Kodama, James McDonald, David Paul Johnson and others.) A hotly contested recipe contest. Local food displays. Entertainment on two stages.
Two things not to miss.
First, the Maui Onion Eating Contest, with both a keiki and adult division. Watch (or join) contestants vying to see who can eat a pound of raw onions the fastest. (Paramedic standing by.) At left, a costumed contestant prepares to chomp his way to victory.
Second, and Biting Commentary can't recommend this too highly, have the onion rings. Some of the best onion rings you'll ever taste come continuously out of the wok fryer. Don't miss them.
If you're on Maui this week, eight Kaanapali restaurants are offering Maui Onion appetizers for $9.99. It's tempting stuff: kim chee Kula Onion chow fun with tempura braised pork belly, Maui Onion stuffed pasta topped with Madeira sauce over rainbow beets. For a complete list, click here.
If you have an appetizer, you are entered to win a trip for two from Maui to any nonstop destination that Alaska Airlines flies. The winner will be announced at the festival.
For more on the festivities, call (808) 661-4567 or click here.