Sustainable Cuisine: Lessons from a pig farmer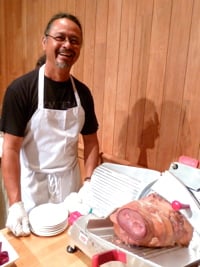 You don't always run into a pig farmer in the ballroom of the Halekulani. When you do, it's time to learn something.
Last Friday, at an event called An Evening of Sustainable Cuisine, Biting Commentary fell into conversation with Glenn Shinsato, of Shinsato Hog Farm in Kahuluu.
Shinsato sells 1,200 pigs a year, but seldom to chefs. His pigs go mainly to private celebrations and ethnic markets, who will take a whole pig. "Ethnic markets use every single part of the pig, because they know not to waste," he says.
Once he offered a whole pig to the dozen original Hawaii regional chefs. Only two took them, he says, and none of those came back for more.
Lately, though, Ed Kenney of Town came knocking. "He found us more or less by accident, through one of our customers," says Shinsato.
Shinsato asked him how he learned to cut up a whole pig. "YouTube," said Kenney.
"I had to hand it to the guy. How many chefs would do that?" says Shinsato. "I sold him a pig."
At his cook station, Kenney was telling all comers that the three dishes he'd made that night had come from a single pig, and he'd used the whole pig.
There was an extraordinary pork belly roulade, so good that if it hadn't been so filling, you would have stood in line again for seconds.
Also Kenney had made his own sausage (left), a thin-gauge variety of Italian sausage called chipolata. The highly flavorful fresh links were served curled on a plate with braised Tuscan white beans and baby carrots, once again hearty fare.
Finally though, Kenney served Coppa di Testa, thin sliced with Ma'o beets and mustard seeds.
Confronted with the beautiful, nearly translucent slices (right), most people at the event probably had no idea what they were eating. On one local food blog, a picture of the dish was labeled pork belly—wrong side of the animal.
Coppa di Testa made from the head of the pig, brains and eyes removed, other parts of the pig inserted, cooked up in the natural gelatin. Right there on the side of Kenney's food station, a cook had the whole head in a slicer.
Coppa di Testa is usually called "head cheese" in America, where it's hardly a delicacy.
Versions of this dish are eaten in most European and Asian food cultures. Most people around the world eat it, because pigs are expensive to raise, and no part is worth wasting.
"Americans are naive and spoiled," says Shinsato. "We've had an abundance of food so cheap we could waste it. Nobody wants to connect the dots between what it takes to produce the food and what they're eating. If people want sustainable food, it's going to be more expensive. Don't waste it."
Shinsato learned that lesson from his father, a fisherman. "He knew the work it took to catch a fish, and when he ate one, he ate every bit. We used to say, leave some for the cat."