Sunday, March 20 – Day 10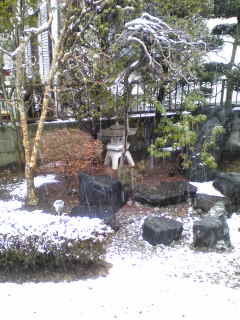 Yasue reports on her day in Sendai:
I awoke at 7 a.m. to discover the electricity went out some time over night. It is still so cold and the only heater we have here is a small electric one.
I decided I would walk to get a kerosene heater at D2, a home improvement store similar to Home Depot. It would take me about 45 minutes to walk there. On the way there, I realized my cell phone was nearly out of battery so I stopped at a taxi office and asked if they had power. They said yes and were kind enough to allow me to charge my cell phone. After I charged my phone, I walked to the store and waited about 30 minutes in line. Inside, the store is still a mess from the quake and they said they have not received any new stock. They were selling small items like toilet paper, buckets, paper goods, dry cereal, etc. by the store's entry. I bought a large kerosene heater for 10,000 yen (about $100). After, I could not find the bus stop, so started walking with the heavy stove. A gentleman was right behind me on the narrow sidewalk and I paused to let him go first. He offered to help carry the heater. I could not believe it as his house was the opposite way. At first, we carried it together, but he insisted on carrying it by himself. He carried it and I walked right behind him. Luckily, after about 10 minutes, I found a taxi and thanked him for his help. He was so nice!
I called mom at the hospital. She is still on an IV, but she is doing good. The nurses washed the patients hair today! Mom said it felt soooo good after 9 days with no bath. I am so thankful for the nurses as their hard jobs were made even harder by first having to heat the water.

Yasue (left), her mother and Ian visited her father's grave in June 2010 in Sendai, Japan. He passed away on Jan. 2, 2010. We do not yet know how badly damaged the shrine was in the earthquake.
The electric was back on when I got home. My mom's friend who lives close by came to check on me and also ask about mom. Another friend of my mom's came later and brought me a sushi bento and a package of mochi. I gave her onions, some Chinese cabbage and potatoes. She was happy and told me she was going to make curry rice. She runs her own cosmetic business and she told me the business will be tough. She does not expect any income for at least a month. Nobody is buying cosmetics. People cannot even take a bath. In Japan, most of the houses use on-demand gas hot water heaters and the gas refinery was heavily damaged by the quake and fire. They said that the city will not be able to provide gas for more than a month. It means that with no hot water, no bath more than one or two months? Well, at least I too could wash my hair today. It felt so good after!
Mom called me again in the early evening and was so excited. Her friend, who gave me the sushi earlier, came by the hospital and brought mom and her roommates homemade curry rice for dinner!!! Wow she is so quick! Mom was so happy. Food makes her so happy now. I bet she can get a good night of sleep with a full tummy tonight.
I am planning to visit her tomorrow. It will be raining and I have to try not to get wet due to the nuclear warning.
Oh no, an aftershock is rattling the house again. I have to go downstairs! Bye.