Sun Protective Clothing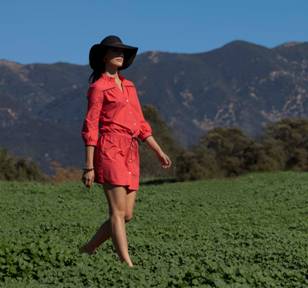 It's not easy living in Hawaii when you have the chalky complexion of one of the Twilight vampires. To avoid spontaneously combusting in the sunlight, I'm constantly slathering on the sunscreen and lurking under beach umbrellas.
I own some sun-protective clothing, but let's face it, the fabric feels like it was made out of an old parachute.
Enter Mott 50, a New York City-designed line of clothes that not only offers the equivalent of SPF 50 sunscreen, but also is actually cute. The company has the requisite tunics, but goes further: a sleek wrap dress, poplin sundress with funky leather trim, cargo pants (seen in the photo below; they also come in beige). These are looks you can wear in Honolulu, styles that don't scream, "I'm 70 and live near a cactus in New Mexico!"
The Mott 50 fabric has weaves and treatments to give it a UV protection; the clothes are machine washable, but don't put them in the dryer. A basic V-neck tee shirt is $55 (they named it "Kathryn" so obviously they have heard of my legendary pallor), while a sheath goes for $119. The line also includes shirts for men, such as polo styles, and hats.
Mott 50 is available at http://www.mott50.com/.