Recipe: Summer Rolls
This light and fresh Vietnamese appetizer is the perfect prelude to an Asian-inspired meal.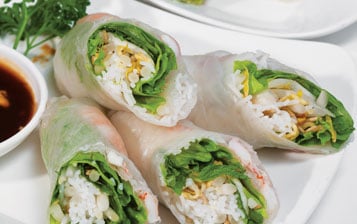 Summer Rolls
Ingredients
Lettuce, torn into small strips
Bean sprouts
Mint leaves
Vermicelli noodles, cooked according to directions
Shrimp, boiled, deveined and sliced in half or roasted pork
Rice paper
Instructions
Dip rice paper in water, remove and shake off excess water.
Lay rice paper on a plate and place lettuce strips, bean sprouts and mint leaves on top.
Place vermicelli noodles on top of the greens.
Place three pieces of shrimp on the noodles.
Fold in ends of the rice paper and roll from the bottom up as tight as possible.
Serve with dipping sauce.
Dipping Sauce
In a small dish, combine:
3 tablespoons hoisin sauce
1 tablespoon chili sauce
Roasted peanuts
Prep Time: 30 minutes
Sponsored by Pho Vietnam