St. Andrew's Preparatory School Gives Boys a Smart Start (Sponsored)
St. Andrew's Schools Opens New Elementary School for Boys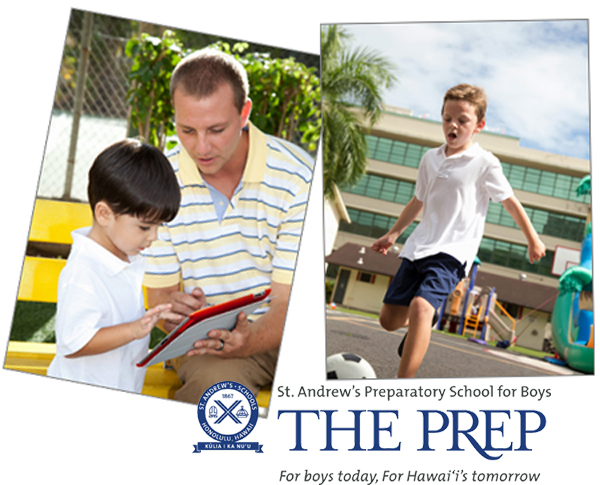 It's a fact of parenthood. Your youngest will always want whatever your older one has. From sweets to toys to field trips, you've worked hard to keep everything even. But when it came to education, your daughter definitely had the advantage of the rich, challenging curriculum at St. Andrew's Priory.
That's about to change.
In the fall of 2014, St. Andrew's Schools will open its doors to Hawaii's only elementary school just for boys. St. Andrew's Preparatory School for Boys will start with kindergarten and first grade, and will eventually expand to the fifth grade. Every level will be treated to the customized, single-gender education that has benefitted girls since St. Andrew's Priory started in 1867.
The Prep students will attend separate classrooms on the same historic campus downtown; so boys can take full advantage of St. Andrew's advanced technology, libraries, arts, and sports facilities. The students can study under the tree planted by Queen Emma while working on an iPad on the wireless campus. Weekly chapel services are held in the Episcopal cathedral King Kamehameha IV and Queen Emma built on their royal garden.
Learn more about the new Preparatory School for Boys and meet its new headmaster at its first ever open house, Sunday, October 27 from 2:45-4:15 p.m.
For parents wanting to learn more about St. Andrew's Priory's challenging, college-prep curriculum for girls, reserve your space for The Priory Open House that Sunday, 1:00-2:30 p.m.
Both open houses will be held Sunday, October 27 on the St. Andrew's Priory campus at 224 Queen Emma Square.
The Preparatory School for Boys Open House for grades K-1 is 2:45 – 4:15 p.m.
The Priory's Open House for grades K-12 is 1:00 – 2:30 p.m.
Reservations are required. Call 536-6102 or visit standrewsschools.org.