Spring Break Guide 2019
Sing in a rainforest. Spike a volleyball. Paint like Monet. Day camps offer many options for keiki.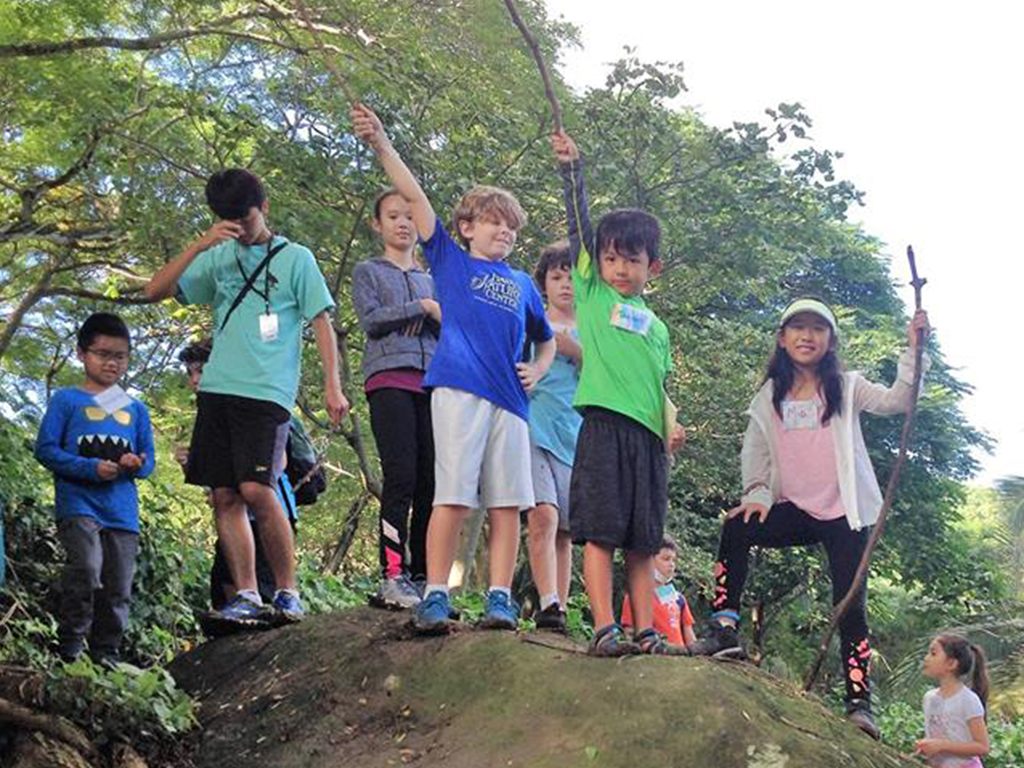 Photo: Courtesy of Hawaiʻi Nature Center
Spring break is just three weeks away for most school children on O'ahu. If you want to sign up your keiki for a camp and haven't yet, you might want to act fast, because spaces are filling up. Here are nine exciting options we think your children might like:
1. Art Explorium
Located in a Kaimukī studio, this camp teaches kids to create food art, basic embroidery and other masterpieces using recycled materials. Keiki also explore their own handwriting and signatures. The camp's theme is "Flexing Creative Muscles." Bring lunch and snacks, a refillable water bottle and an old T-shirt to turn into art. Visit website for camp policies.
2. Hawai'i Nature Center
The spring break theme, "Navigating Nature" encourages keiki to observe their surroundings—from patterns in clouds to tracks left in the mud. Campers navigate trails using maps, participate in geocaching, learn the science of wayfinding on double-hulled canoes, and more. Wear closed-toed shoes with good traction, comfortable clothes and bug repellent. Pack a refillable water bottle, morning snack and a hearty lunch, sunscreen, hat, eye protection, and swimsuit and towel for field trips.
3. Honolulu Zoo
Located next to Waikīkī Beach, this camp introduces keiki to the animals of Honolulu Zoo, using arts and crafts, tours and lessons from animal handlers. Campers can sign up for one or both weekly sessions. Lunch is available for a price, or campers can bring their own food. Wear closed-toe shoes, sunscreen and hat, and comfortable clothes. Pack a snack, lunch and refillable water bottle. Please note that age groups for spring break camp are different from age groups for summer break camp.
4. Kama'āina Kids
This camp is offered at 11 different sites. Keiki participate in arts and crafts, games, science, singing and dancing, field trips and more. Lunch is provided for an additional cost and typically is a cold-cut sandwich, two snacks and a drink. Pan pizza and a drink are served on the first day. Specialty camps at Bishop Museum, Mānoa District Park and Sea Life Park also are available.
5. Kroc Center Hawai'i
Kroc Center in ʻEwa Beach offers three camps for keiki. "Kroc Day Camp" is a Bible-based program with arts and crafts, sports, science, swimming, outdoor play and more. Kids in the "Art Specialty Camp" or "Volleyball Specialty Camp" meet for two hours with specialized instructors, while day-camp kids participate in other scheduled activities. The specialty and day campers join one another for field trips and swimming. Dress to play and bring two snacks, a sack lunch, refillable water bottle, sneakers, sunscreen, backpack, change of clothes, bathing suit and towel.
6. Le Jardin Academy
Depending on players' skill levels, two camps are offered. "Spring Break Camp" is for the recreational and intermediate player ages 6-12. "Advanced Technical Camp" is limited to 28 players and is designed for older kids with club coach recommendations. Campers in both groups should bring labeled water bottles, lunch, snacks, flats (for gym work), cleats and shin guards.
7. Lyon Arboretum
Set in a Mānoa rainforest, this camp uses hikes, arts, crafts, music and activities to create positive relationships with nature. The theme is "Rainforest Adventures." Instructions for pick-up and drop-off, camp packing lists and other details are provided after registration.
8. Rainbow Art Studio
Held in a classroom at Kāhala Elementary School, "Monet Blossoms" spring camp introduces kids to drawings, pastels and acrylic colorings. Bring snacks, lunch and water. After-camp care is available until 5 p.m. for an additional fee.
9. The Oʻahu Club
This sports-themed camp in Hawai'i Kai includes swimming, water polo, tennis, beginner tae kwon do, volleyball and a community-service day at Hāwea Heiau complex. Bring sunscreen, change of clothes, water, snacks and lunch. An after-camp fit kids program is available for an additional fee.