Spook-tacular Real Estate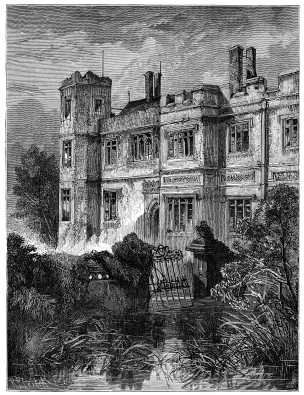 I love a good ghost story, and, here on Oahu, there are plenty of tales of spooks and ghosts and things that go bump in the night. And there are definitely haunted-house (and haunted-building) stories galore. In an October 2008 HONOLULU Magazine article entitled "Haunted Hawaii," freelance writer Catherine Toth dug up Oahu's most haunted places, which included:
• Old Waialae Drive-In Theater on Waialae Ave., which closed in the 1980s, but was said to be haunted by a faceless woman who pounded on stall doors or appeared in the mirror in the women's restroom.
• Pacific Isle Mortgage in Pearl City. According to Toth, workers reported such unexplained phenomena as hearing children laughing and running down hallways.
• Wahiawa Elementary School. The Green Lady, a scaly apparition who appears in the wooded area next to the school, has long haunted Wahiawa.
For her research, Toth referenced a couple of recommendable reads: Obake Ghost Stores in Hawaii and Obake Files, by Glen Grant, and Haunted Hawaiian Nights by Lopaka Kapanui.
A realtor friend reminded me about one particularly well known, haunted Kaimuki house, which is said to have been located along Harding Ave. (Some people say that the house still stands, while others believe that it was bulldozed years ago.) My friend referred to the house as a "portal to hell" and said that tenants had been in and out of there for years, complaining of bizarre, unexplained activity. The stories about the house that I found focus on a "being" that picked up and threw the homeowners from wall to wall, an occurrence that was supposedly documented by police (if that police report exists, I'd love to see it). It's also been said that several murders occurred in the house, hence the presence of evil spirits.
Marty Lum, a realtor with Coldwell Banker Pacific Properties, told me about a Waiau Gardens Kai-G town house in Aiea that he and his wife purchased in the late 1970s. I've included part of his story here, excerpted for space:
My wife and I purchased this townhome in February 1977 before we were married in March 1977 and moved in after our wedding. Things seemed to be normal when we moved in and there were no indications of anything unusual … On Mother's Day, we were invited to my wife's mom's for Hawaiian food dinner. That evening, we returned home about 8 p.m. and prepared to retire for the evening. It was just after midnight that I awoke to pull up the blanket as it felt a little chilly, but there was no wind blowing through the louvers covered with a sheer curtain. I felt a little restless and tossed and turned trying to go back to sleep. My wife woke up to use the restroom and when she opened her eyes and looked towards the foot of the bed, there appeared to be a white, faceless, full-figured woman only from the waist up and no arms. She thought she was imagining this, so she closed her eyes and re-opened them only to discover the figure still at the foot of the bed. She had to use the restroom so she just got up and walked towards the foot of the bed and the figure disappeared.
She mentioned that I was tossing and turning all night and she said she also felt the chill in the room, although there was no breeze. We made an appointment to see our reverend and he explained that there are some wandering spirits just looking for comfort and people with good hearts to help them move on. He asked if we had brought home anything unusual and we just told him that we visited the heiau the weekend of Mother's Day, and brought home some leftover Hawaiian food from a dinner gathering. He told us to set up a small table in the general area where my wife noticed the figure. Every evening before we retired, we were to prepare a small portion of the kalua pork and place it on a piece of ti leaf on a tray. Along with the kalua pork, we were to also place some Hawaiian salt and a glass of water. This would remain there through the night and the next day. At dusk we were to toss the offering outside of the house where no one would walk or step on the offering. We repeated this for seven days, and this stopped the lights from being turned on and the figure of the woman never reappeared.

Got a haunted-house story you'd like to share? Comment below or e-mail us at realestate@honolulumagazine.com. Happy Halloween!