Spelling Your Way to S-u-c-c-e-s-s
Helping our keiki build a strong and solid foundation in life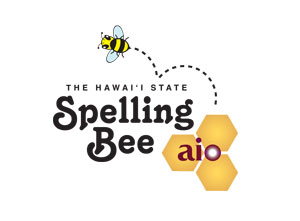 The Hawaii State Spelling Bee
Spelling is a fundamental skill students learn at an early age. It is the basic foundation in schools, but also an essential part in life. Without letters, we wouldn't have words. Without words, we wouldn't have language. Without language, we wouldn't be able to communicate.
"Language provides the window from which we see, hear, taste, smell and feel the depth and breadth of the world around us," says Duane Kurisu, chairman and chief executive officer of aio. "The different letters, symbols and sounds which make up the language for different groups of people bring to life their beliefs of what is true to them."
Living in a modern society with advanced technology may be helpful, but it can also be a downfall. Sending text messages and "tweets" on Twitter may be contributing to the decline of spelling words correctly.
"In these days of text messaging and the decline in the practice of handwriting in the digital age, I think we should be concerned about the lack of focus on spelling," says Kurisu. "We cannot lose the important nuances of truth that our lives were built upon. In many ways, the preservation of the discipline of spelling keeps alive our own concepts of what it is to be a human being."
Text-message abbreviations and misspelled words are now showing up on resumes and college applications. What might be acceptable in the social world on Facebook or Twitter is not acceptable in the professional career world.
"In an era where texting and e-mailing have inspired abbreviated and symbolic language, it's still important to be able to spell," says Leslie Wilcox, PBS Hawaii president and chief executive officer. "'10Q' for 'thank you' is fine on the fly, but not on business letterhead."
To help keep spelling alive and help Hawaii's children build a solid foundation in language, aio and PBS Hawaii have partnered up to sponsor the 2011 Hawaii State Spelling Bee.
The journey began in November 2010, when more than 50 schools statewide registered to participate. Earlier this year, school-level bee winners competed in one of the seven district-level bees to qualify for the state competition. The best of the best will be competing on March 19 for the state title.
For Wilcox, the bee is close to her heart in a personal way. As an eighth grader, she was the spelling bee champion for Niu Valley Intermediate (now Middle) School. She also won the district-level bee and competed in the state competition. As an adult, she's been involved with the bee on many different levels.
"In the mid-1990s, I was asked by my employer at the time, KHON2, to serve as the bee host and pronouncer and did so for a number of years," says Wilcox. "At every bee, I met dedicated teachers and parents who'd spent hours helping children prepare for the bee and encouraging them."
This year, Wilcox will be serving as the event's host and pronouncer again, and PBS Hawaii will be broadcasting the competition on live television.
"PBS Hawaii is happy to help aio and its community partners who've picked up sponsorship of the bee," she says. "We're looking forward to returning the statewide bee to live television in primetime viewing hours."
Web Extras:
• Access our winners list for the school- and district-level spelling bees. Click here to read more.
• "What is the origin of s-u-c-c-e-s-s?" Scripps National Spelling Bee provides 10 tips to spelling superstardom. Click here to read more.