So, You Want to Live in the Trump Tower Waikiki Beach Walk?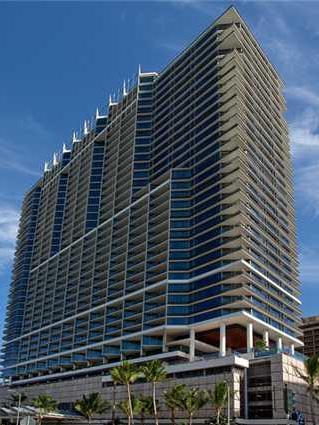 The Trump International Hotel and Tower Waikiki Beach Walk doesn't allow open houses, so unless you decide to stay as a hotel guest, you're not getting in to see the building's ultra-swank abodes. Trump's debut in Waikiki has not been without its hiccups: The condo-hotel, which has 462 units, sold out in record time, but then, as the opening neared, the economy sank deeper into the recession and the buyer cancellations began. Rather than lose the large down payment, many owners chose to close on the properties, only to almost immediately put them back on the market. So, for a while it seemed that the MLS was awash in Trump listings. But things are looking up for Trump. As of Oct. 23, there were 41 units active in MLS, and seven units have sold in the last six months, with an average days-on-market of 54.
Of the units that have recently sold, several were developer cancellation units that were only recorded in MLS for statistical purposes. According to Fujioka, Chinese and Japanese buyers are snatching up real estate at Trump. "The Trump market is better than before," says Fujioka. "Buyers are coming from everywhere, but especially from China and Japan. The number of tourists from China has increased, while the Japanese yen is currently very strong."
Owners at Trump have the option of placing their studio, one-, two- and three-bedroom suites and residences (I'll get to the difference between those in a second) in the hotel pool to be rented out as hotel rooms, can opt to have an outside property management company handle the rental of the unit or can choose to do none of the above and use the property as a primary residence or second home. If you're confused about the difference between suites and residences, join the club. Here's the deal: Floors 8 through 23 have the majority of the smaller units, and are thus referred to as suites. Floors 24 through 37, on the other hand, contain the majority of the larger two- and three-bedroom units, which have been dubbed residences.
With a name like Trump written on the building (and the spa products, tea, towels and whatever else he could put his name on), and with monthly HOA fees that can range between just under $400 and $2,000, you're going to get a lot of amenities. Among them: Free valet parking (with the exception of full-time residents, owners cannot leave a car on property full time), library, lobby bar and lounge, two restaurants (Waiolu and BLT Steak) plus a new one on the way, full-service spa with outdoor treatment rooms (spa treatments are not free for owners), fitness center, sixth-floor rooftop infinity-edge swimming pool, 24-hour front desk and concierge and beach activity desk. Of course, the convenient Waikiki location—across the street from Fort DeRussy and Waikiki Beach and close to the Board Walk—isn't too shabby, either. Plus, all units are sold fully furnished, which goes beyond the furnishings to include stacking washer-dryer in one-bedroom-and-larger suites and all residences, dishware, glassware, bathrobes and blow-dryers.
Money talk: A city-view studio with 355 square feet is currently listed at $469,000; a three-bedroom, two-bathroom, 1,972-sq.-ft. residence with city, mountain and ocean views is priced at $4.5 million.
For information about the units pictured here: Megumi Fujioka, Century 21 All Islands, 781-5786, alohamegf@gmail.com.