Should vacation rentals have a higher tax rate?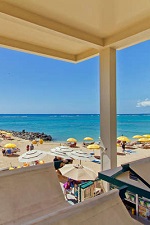 A proposal by Mayor Kirk Caldwell could result in higher property taxes for Oahu vacation rental owners.
In an appearance last week on Hawaii News Now's "Sunrise," Caldwell discussed possible strategies to pay for city worker raises. One of his suggestions is establishing a two-tier property tax system that would allow the city to increase the rate for owners of upscale properties in which they don't live.
The mayor's plan is included in one of several property tax bills the Honolulu City Council will hear on Wednesday. Bill 37 would adjust the real property tax rate for hotels and resorts to include transient vacation units, bed-and-breakfasts and time shares.

It's a significant tax hike. Those properties that are currently taxed at the residential tax rate — $3.50 for $1,000 of net taxable property — would see the rate go up to $12.40. Caldwell says the change would affect only those who have high-end properties they don't live in, so hypothetically the tax on a $1 million vacation home would go from $3,500 to $12,400.
It's not a new concept. Past mayors have tried, unsuccessfully, to change the rate to put more of a burden on those in a higher income bracket, while protecting Oahu owner-occupants from major tax increases.
Do you think vacation rentals and bed-and-breakfasts should be taxed at a higher rate? Please post your comments here or email me your thoughts.