Should Kakaako have a school?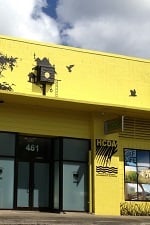 Critics of Kakaako development proposals frequently point out that there's no school in Kakaako.
It's a legitimate concern when you consider that hundreds of families could be moving into the area if the condominium and workforce housing plans come to pass. The closest elementary schools—Royal and Queen Kaahumanu—don't have the capacity to accommodate large surges in enrollment. Meanwhile, the only public school in Kakaako proper—Voyager Charter School—is moving to Wilder Avenue.
For a dozen years, my own kids attended Voyager as it occupied converted warehouse, retail and office space in Kakaako. That was fine, but not ideal. There was no library or gymnasium, but the Hawaii State Library and Mother Waldron Park were both in walking distance.
Now that the Kakaako area is going to become home to more and more young families that need a neighborhood school, it's time to consider something permanent for the area. Part of Kakaako's draw is its proximity to offices in the downtown and government districts. Being able to walk to work isn't as convenient when you have to drive a child to school first.
Hawaii state Department of Education spokeswoman Donalyn Dela Cruz says a new school is among the possibilities for Kakaako, along with expanding existing schools.
"For all developments, our Facilities Development Branch is engaged with developers very early in the process to determine what, if any, impact these projects might have on student enrollment in area schools," she explains.
The DOE surveys student capacity at the school each year and assesses expected enrollment changes, so it's keeping a close eye on Kakaako. Dela Cruz says a few options are on the table: increasing capacity at area schools, opening a new elementary school or developing a new urban model for a school in one of the residential towers.
Whatever choice the DOE and developers go with, I hope there's a school in place to accommodate the Kakaako kids as they start moving in.