Seven Super Cute Summer Finds at SoHa Keiki
Sun season is here and the kiddos are ready for some serious splash time! Check out these cool buys at a popular kids shop in Kāhala Mall.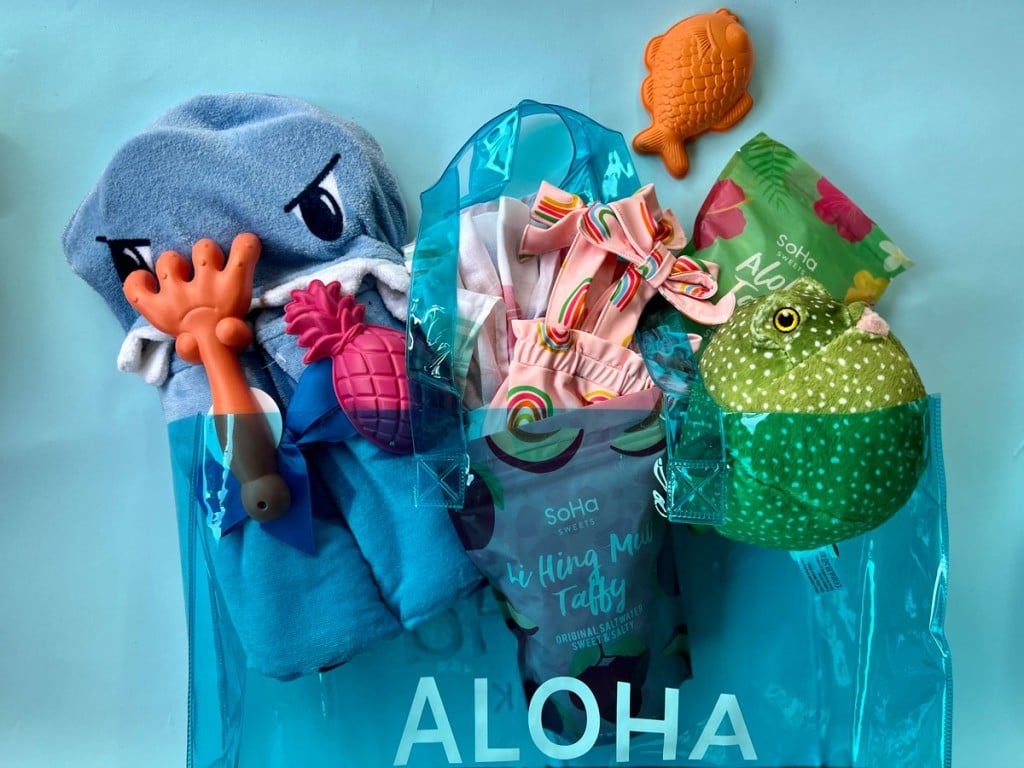 SoHa Keiki at Kāhala Mall opened earlier this year. A wee branch of SoHa Living, the sweet-meets-chic spot caters to customers who love to splish-splash in the ocean, fancy everything rainbows and believe in magic (and magical creatures). You'll see exactly what we mean when you step into the charmingly colored shop—which is an ode to the owners' youthful beach-spent days.
On that note, SoHa Keiki is a treasure trove of stylish coast lines (including SoHa's own designs) that deliver awesome ocean-themed apparel, toys, snacks and knickknacks that are perfect for the beach, pool and home. We oohed and aahed at almost every item taking up space on the shop's shelves, tables and walls. Though it was hard, we landed on seven beachy-keen necessities that deliver fun, style and coolness.
SoHa's signature clear-as-water tote bags hold everything from big beach towels and sand toys to tubes of sunscreen. We're loving all the sunbright neon-hued options. Large tote, $14.80.
A bag full of sand toys is a must to keep keiki busy and happy as clams. SoHa's option comes with cute ocean critters and other adorable sea-inspired objects. Set of 12, $26.80.
Cute swimwear is floating all around the shop, case in point this rainbow/tutu set, $49.80.
Sunscreen is a big must to keep little buns protected and safe. This local line from Little Hands Hawai'i is reef safe, baby safe and protects against UVA and UVB rays. 3.4 ounces, $20.80.
We couldn't resist these squishable, sweet stuffed ocean friends from SoHa. The shop's signature collection of plushies is made from 100% recycled plastic bottles, which makes it very, very sea-worthy. Pufferfish, $16.80, mahimahi, $22.80.
What better sweet to have at the beach than saltwater taffy? SoHa's versions are locally made and come in common Hawai'i flavors. Li hing mui and aloha tropical mix, $9.80 each.
These made-for-mamas pareos are soft as a baby's bottom, pack up easily and can double as beach blankies for the kiddos. Surfboard pareo, $36.80.
SoHa Keiki, Kāhala Mall, (808) 591-9777, sohaliving.com, @sohakeiki