The Seven Most-Asked Questions About Kids' Teeth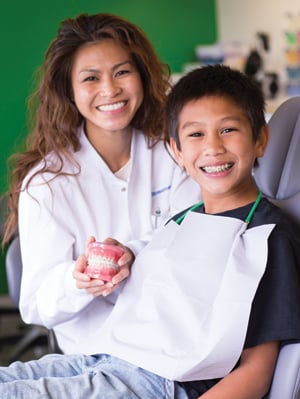 The keys to a great smile are healthy teeth and gums.
As parents, we face challenges when it comes to ensuring the best oral health for our children. We asked some local experts and parents to answer seven common questions parents have about their children's dental health.
1. How can we encourage our young child to brush his teeth more often?
Play tooth-brushing games, let your child watch you brush and encourage your child to brush his own, before finishing the task yourself. Be consistent about brushing after meals and before bedtime.
When their daughter and son (Mino, 5, and Kosei, 3) were younger, Honolulu parents Misako and Kainoa Nite often read them a children's book about "a monster that visits sleeping kids who don't brush." Today, the siblings are diligent about oral hygiene, pretending to "shoo away sugar bugs" with their toothbrushes.
Tooth brushing is bonding time for the Zialcita kids of Kahala. Four-year-old Michaela "Aika" copies her brother, Matthew "Taiga," 7, and the youngest child, Marika, 2, follows her sister. On days when the trio rebels, their dad, Martin, says, "We scare them by pointing out grandpa, who doesn't have many teeth left, because he didn't brush before going to bed when he was smaller, and they don't want to be like that."
2. How can we address our child's fear of dentists?
Together, read children's books about dental care, and "play dentist" by asking your child to open his mouth to count teeth.
Find a pediatric dentist who has a good rapport with kids. Dr. Michelle Kobayashi of Pedodontic Associates demonstrates on stuffed animals before treating her patients. To ease fears, she sings the theme song to Little Einsteins, a show on Disney Junior.
Dr. Curtis Kamisugi, an orthodontist with offices in Honolulu, 'Aiea and Mililani, once took the time to place headgear and braces on a young patient's Cabbage Patch Doll. "The girl was thrilled that her doll was sharing in the orthodontic experience," he recalls.
The "tell, show and do" approach works well for Dr. Mark Sumikawa of the Pediatric Dental Group. He encourages young patients to play with his dental tools prior to lying in his chair, "so the room doesn't feel so medical-like."
Sumikawa's advice for families with older kids: Don't make a big deal about dental visits and "be matter of fact that children are going to the dentist," he says. Sometimes, parents with good intentions over-explain dental procedures, increasing children's anxiety, he notes.
3. Should we give our child fluoride supplements?
If your family doesn't live in military housing in Hawai'i, your child isn't drinking fluoridated tap water. The Honolulu Board of Water Supply does not add fluoride to O'ahu's water supply, but federal laws require fluoride to be added to the water supply of all military installations.
Children younger than 2 should not use fluoride toothpaste, unless advised to do so by their dentists. Generally, the guideline is for a tiny "smear" of fluoride toothpaste for toddlers twice daily, starting at age 2, and a "pea-size" drop of toothpaste for children ages 3 and older (as they learn to spit).
Small amounts of fluoride are present in children's juices, bottled waters, infant formulas and foods, and some doctors prescribe supplemental drops to young toddlers, only after considering the child's dietary sources of fluoride.
Parents have the final say, of course. "Ultimately, the decision to give your child supplements or not is a personal matter," Kobayashi says.
Fluoride supplementation is "not a clear-cut issue, and the recommendations constantly change," Sumikawa says. "As dentists, we set rules for each child based on how well they're brushing, whether they're drinking from the bottle all day or nursing on demand, etc."
Dentists agree on one issue, however. Excessive amounts of fluoride in the first eight years of childhood lead to fluorosis, causing discoloration, pits and bumpy surfaces on permanent teeth. Teach your kids to spit, not swallow, toothpaste at an early age.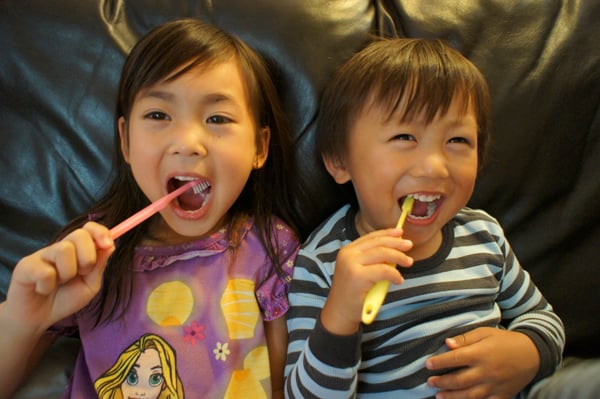 Mino, 5, and Kosei, 3, shoo away the sugar bugs.
4. Our child needs braces, but at what age should she start?
Your child should be seen by an orthodontist around age 7 to determine the need for braces, recommends the American Association of Orthodontists. This is the age when permanent teeth erupt, and potential problems with teeth and jaws are noticeable.
Typically, kids start braces between ages 9 and 14 to fix crooked teeth, crowding, spacing or other dental issues caused by finger- and thumb-sucking. Some kids start orthodontic treatment as early as age 7 to address severe dental problems, such as under- and overbites.
The average time in braces is 18 to 24 months, however, the length of treatment depends on your child's growth rate, severity of the correction, oral hygiene and monthly maintenance. After removing braces, orthodontists often require a retainer to prevent teeth from shifting.
5. Should we wait until after our child loses all her baby teeth to start braces?
Not necessarily. Depending on the severity of your child's dental problems, some orthodontists treat in two phases. Phase 1 begins from ages 7 to 10, when the first four permanent molars and the incisors appear. This phase lasts between six and 18 months and may require braces or a modification device, such as headgear, a facemask and expanders. After the Phase 1 treatment, your child may wear a retainer while waiting for Phase 2 to begin (anywhere from one to four years).
Phase 2 typically starts when the majority of permanent teeth arrive, between ages 11 and 13. In this phase, which lasts from one to two years, your child wears full braces or new retainers to finalize her teeth's position.
Although a two-phase treatment isn't for every child, early intervention has some benefits. "Some orthodontic problems may be easier to correct if found early, and it may make the treatment at a later stage shorter and less complicated," says Dr. Rosemarie Tan of Oahu Orthodontics.
6. How can we prepare our child for the lifestyle changes of braces?
"Be vigilant about caring for your braces," Kamisugi says. He advises against sticky and hard foods to avoid damaging braces and recommends mouth guards for kids who play contact sports. He also suggests brushing up to four times a day, flossing once daily and visiting the dentist every six months for routine cleaning.
Mouthwash, dental floss and picks were staple items in Merrily Luke's medicine cabinet when her children Joshua, Kailee and Tiffanie wore braces for approximately two and a half years each. The Honolulu mother recalls stocking up on BrushPicks for her family for almost a decade.
Another crucial item in the Luke family's home was dental wax, which creates a barrier between painful metal brackets and sore gums and cheeks. "Give any kind of comfort to your kids while they're wearing braces, to make the experience good and tolerable," she advises.
7. What is the price tag for braces?
Depending on the treatment, braces cost between $5,000 and $8,000. "It may sound expensive, but orthodontic treatment is a lifetime investment in the overall dental, medical and psychological well-being of children," Tan says. Some dental-insurance plans cover a percentage of the cost per lifetime, while other plans do not include the cost of braces at all, she adds.