Scream Machines: The Science of Roller Coasters
Simulators, nausea and a build-your-own track make for hands-on fun at the Bishop Museum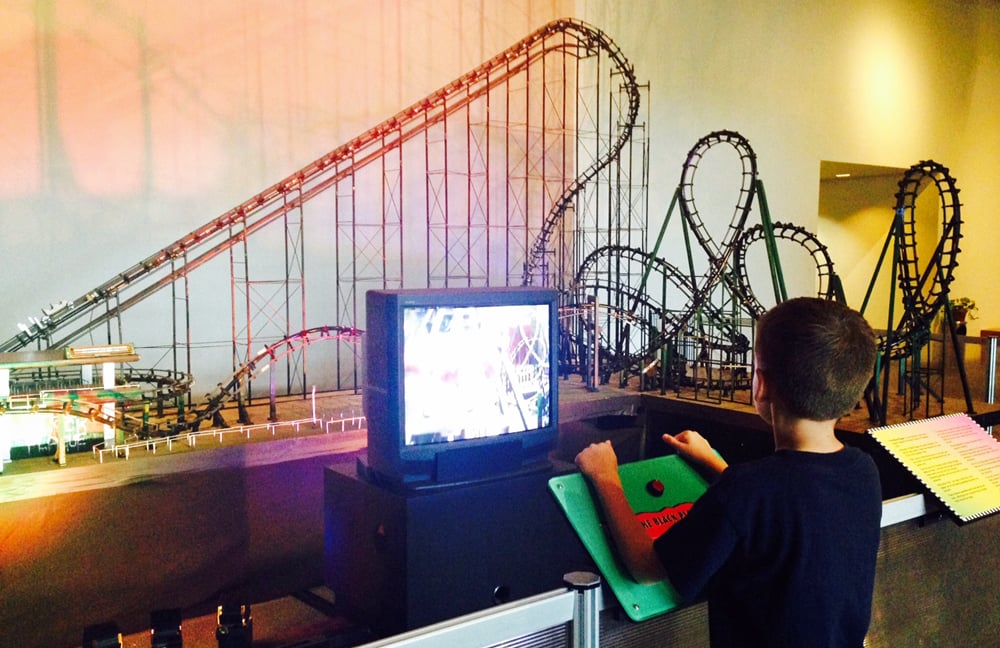 The Bishop Museum's Scream Machines: The Science of Roller Coasters exhibit will keep your kids entertained the entire visit with simulated roller coaster rides, hands-on activities and a spinning room.
Time: Reserve at least an hour. We could have easily stayed for an hour-and-a-half.
Age: Everyone from toddlers to 10 year olds had fun. Even the parents seemed to be enjoying themselves.
When we walked into the Castle Memorial Building, the first thing I lost my son to was a very large miniature roller coaster named The Black Plague. All kids will run here first. It's the biggest miniature track I've ever seen, and any kid (or adult) with an obsession for car tracks a la Hot Wheels will ogle over its large drop, multiple loops, boomerang shoots and corkscrew turns. Kids can take turns, every three minutes, pushing the much sought after red button that sends a coaster car up the large incline and then zooming through the rest of the track.
Next, my son sprinted the short distance to the simulation machine that takes you on five on the nation's best coasters. Warning: There will be a line. A real roller coaster car (that fits about 12 people) in front of a large white screen shifts, vibrates and bounces you through the twists and turns of each track. My son's favorite of the two we tried was the Desperado "because it had a bunch of hills and it went up really high." It didn't provide the same thrill as the real thing, but we would go back to do the rest. Next time, we'd get to the front row for a clear view of the screen. It's also where the car seems to move most.

Left: Testing roller coaster tracks. Right: The roller coaster simulator.
In the next room, kids get hands on with 10 roller coaster tracks. Kids roll a ball to see how each responds to the twists, turns and loops. My son had to do every one, and loved them, while I ran around retrieving the balls that jumped track, apologizing to the other parents and kids who were hit. (No guilt necessary. It was happening to all of them too!) Signs on each track explain force, inertia and gravity. Needless to say, many kids spent their time playing, not reading.
Next was the highly-anticipated Revolver, a spinning platform. Luckily for us, it isn't meant to make you sick. Instead, a guide demonstrates what happens when you roll a ball across a spinning room, and how to aim at spinning targets while you're spinning too. Only a limited number of people can ride it at once. I suggest checking the ride schedule immediately when you arrive at the exhibit, and line up prior to your chosen time to ensure you get a turn.
The exhibit rides are mild, but there is an interactive display that explains why people throw up—in case you were missing this important element of real roller coaster riding. My son says it was gross, but that didn't stop him and the other kids from pressing a button to make the man hurl many times. Yes, the kids kept mimicking the realistic noise it made later on. Call it a souvenir.
Everything we tried was fun, but our favorite part of the exhibit was the create-your-own roller coaster station. It's also a good place to keep everyone occupied while you're waiting for the nearby Revolver. Kids take inclines, hills, loops and connect the pieces together like a large-sized train set. With a few tries, kids begin to understand which pieces will keep a ball rolling, and which pieces will make it slow down, making this a successful educational day out.
The exhibit runs until January 11 of next year, and it's one I would return to again.
Wednesday through Monday, 9 a.m. to 5 p.m. General admission is $19.95 adults, $14.95 ages 4-12, free ages 3 and under. Kamaaina rates are $12.95 adults, $8.95 junior. Visit bishopmuseum.org for more information.