Saving Hawaii's State Spelling Bee
aio teams up with PBS Hawaii to save an educational tradition in our Islands.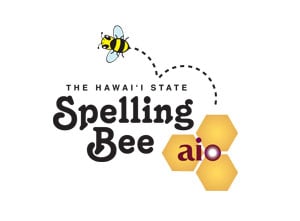 Hawaii Spelling Bee
Hawaii's keiki are buzzing with excitement. Their beloved state spelling bee competition has been saved from cancellation.
Many teachers, parents and students feared that the era of Hawaii's State Spelling Bee would end when the title sponsor decided to withdraw last November. Their fears disappeared when a new sponsor was found.
aio's title sponsorship of the Bee is just one of many educational programs the company supports. In addition to being a family of businesses specializing in media, technology, sports and food, the local company strongly believes in fostering opportunities to further our keiki's education and inspire their future.
"We will do what we can to help Hawaii's children build a solid foundation in language and spelling," says Duane Kurisu, chairman and chief executive officer of aio. "We hope they'll use that foundation to live and compete favorably as adults in the future. Becoming involved in the Hawaii State Spelling Bee encourages educational advancement and accomplishes this mission."
aio is also the parent company of ESPN Honolulu, Hukilau Honolulu Restaurant and several Hawaii publications, including Island Family and Island Baby Magazines, Hawaii Business, Hawaii, Hawaii Home + Remodeling and Honolulu.
"aio encourages its ohana of employees to be the best they can be," says Kurisu. "We also strongly believe in making a difference in the lives of others. Therefore, our participation in keeping the Hawaii State Spelling Bee alive fits well with what we do and what we stand for at aio."
In addition to saving this year's Spelling Bee, aio teamed up with PBS Hawaii.
"When the subject of PBS Hawaii serving as a broadcast home for the Bee was raised, it instantly struck me as a perfect fit with our mission of using media for education," says PBS Hawaii president and chief executive officer Leslie Wilcox. "PBS Hawaii's mission is to inform, inspire and entertain by sharing high-quality programming and services that add value to our diverse Island community."
This year, the competition is open to fourth- to eighth-graders. Each participating school will send its two top spellers to compete in one of the seven District Bee competitions. Fourteen district bee winners will compete in the 2011 aio Hawaii State Spelling Bee. The state competition on March 19 will be televised live from the PBS Hawaii studio, with a radio simulcast on ESPN 1500 AM. The winner will receive an all-expenses-paid trip to the National Spelling Bee in Washington, D.C. The national competition will be held on June 1 to 2, and televised by ESPN.