Sammy Hagar Debuts his Maui Rum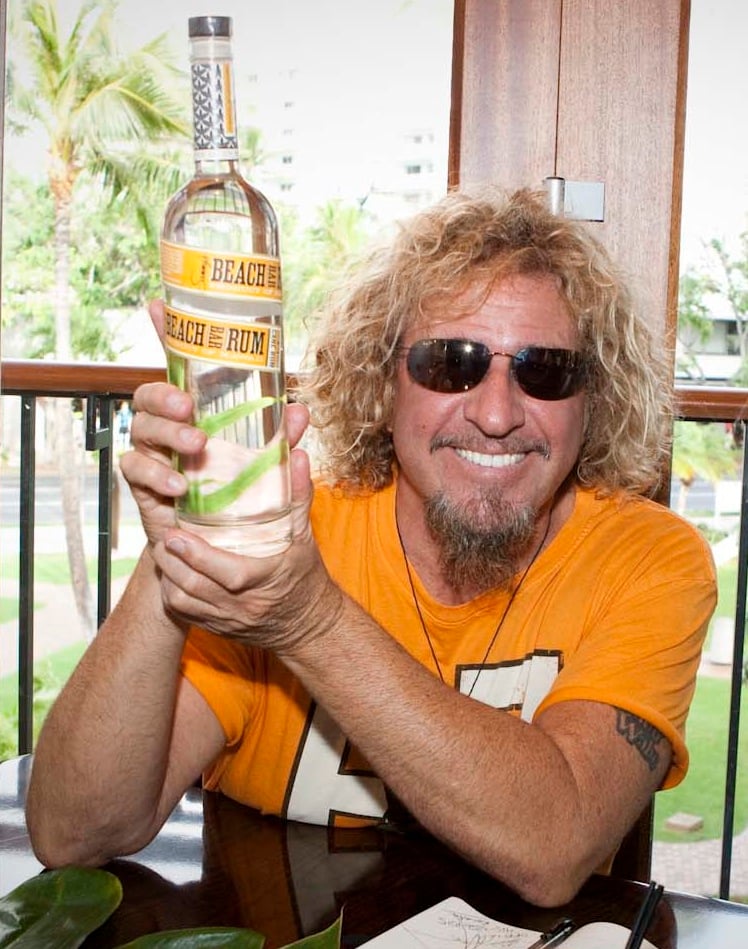 For a Rock'n'Roll Hall of Famer, Sammy Hagar seems like a pretty normal guy.
Especially for someone who survived 11 years as the lead singer for Van Halen. And whose tequila brand, Cabo Wabo, has made him a millionaire many times over.
Hagar was at the Hard Rock Honolulu yesterday, promoting his new spirit, Sammy's Beach Bar Rum, distilled on Maui by Mark Nigbur of Pau Vodka. Nigbur looks remarkably like Hagar, same curly blond locks, same air of rock'n'roll abandon. (That's the two of them below at the distillery, Hagar left, Nigbur right.)
Hagar, who has a home on Maui, had been given a bottle of the vodka and made an appointment to meet Nigbur in the corner of the old Maui Pine cannery where Nigbur distills vodka out of pineapple juice in glass stills.
They took one look at one another. Recalls Nigbur: "I said, Oh F—. He said, Oh F—. And his wife said, Oh, F—!!! This is trouble."
"I asked, Can you make rum?," recalls Hagar. "He said he'd give it a try." A couple of years later, they have a finished product.
The rum's not just a celebrity deal, insists Nigbur. "Sammy has an amazing palate, he knows what he's doing. When he liked the rum, I knew we had something."
For an unaged silver rum, Sammy's Beach Bar has a surprising smoothness. Like Nigbur's vodka, it's small-batch distilled and designed to be sipped, neat or on the rocks (which would be much better than the overly sweet cocktails the Hard Rock was proferring at the opening).
Nigbur may be right: Hagar knows his spirits. The Cabo Wabo tequila story bears that out.
"I wasn't looking to start a tequila brand, " recalls Hagar. "I just wanted better tequila for my bar in Cabo [San Lucas]. A friend of mine said he knew this family of old tequila makers in Jalisco."
The two made a road trip. "It was the best tequila I'd ever tasted," said Hagar. "I would have been grateful if they just let me slap a label on a few bar bottles. Instead, we ended up with an importer from Napa and it took off."
The blue agave tequila won its share of accolades, including a gold medal at 2009 San Francisco World Spirits Competition. It rose to being the No. 2 selling tequila in the United States.
Gruppo Campari, which didn't have a tequila brand, came calling. "I thought, hey, I love that tequila, the company's making money, I'm having fun, why sell?" recalls Hagar, noting that Campari wasn't offering a life-changing amount of money.
"So I said to myself, what would be a life-changing amount of money? I asked them for that," says Hagar. "You know what? They came back and said yes." He sold 80 percent of Cabo Wabo to Campari for $80 million.
"I decided I'd never do anything for money again," he says. "Now I never do anything unless it's fun, unless it makes me happy."
He gestures to a bottle of Sammy's Beach Bar Rum. "This is fun. I'm happy."