Sam Choy Returns to Big Island with a new restaurant, Sam Choy's Kai Lanai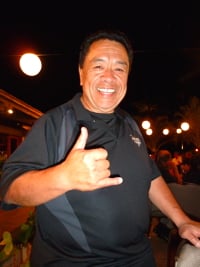 Ran into Chef Sam Choy on the Big Island last weekend. The newly slenderized Choy was more ebullient than ever.
He had just signed the papers for his new restaurant, Sam Choy's Kai Lanai. "After eight months, Kamehameha Land got through all the legal work, and the equipment is rolling," he said.
It's Choy's first Big Island restaurant since his fabled eatery in the warehouse district of Koloko. "I can't tell you how great it is to be coming back home," he said.
The new restaurant will be perched above the Keauhou Shopping Center, on the site of a long-shuttered Wendy's. A Wendy's? Yes, but a Wendy's with a million dollar view, stretching along the Kona Coast.
"You can see boats going by, whales jumping, it's beautiful," says Choy. "Zagat once wrote it was the best restaurant location in Hawaii. Unfortunately, it belonged to a Wendy's."
Down goes the Wendy's and up comes a 200-seat restaurant designed by Maureen Kimmell of Colorado Springs. It will have some casual seating areas—like a Starbucks, says Choy—and some outside seating.
The bar will be called Short Bait, Kailua-Kona Hawaii, as if it were a boat, and it will look like a boat cockpit, as well, complete with captain's chairs.
The menu will be 100 percent Big Island sourced. "Except butter," said Choy. "Can't find butter."
"Tropical Dreams in Waimea," said arch-Big Island foodie, Joan Namkoong, who was with us at dinner.
"Great," said Choy. "Including butter. I think people are going to go wow when they see the menu. We're talking to farmers and ranchers already."
The restaurant, which Choy hopes to keep reasonably priced, will serve breakfast, lunch and dinner. "I really like breakfast," he says. "Most chefs don't know how to cook it."
Choy's restaurant history has had its ups and downs. "It's a tough business, you know that and I know that, but things are really coming together. TV show, frozen food line, this restaurant and more to come."
Expect Sam Choy's Kai Lanai, 78-6831 Alii Dr, Kailua-Kona, by the end of the year.