Sales Started for Park Lane Ala Moana
Interested buyers started lining up at 2 a.m. Friday, Jan. 9.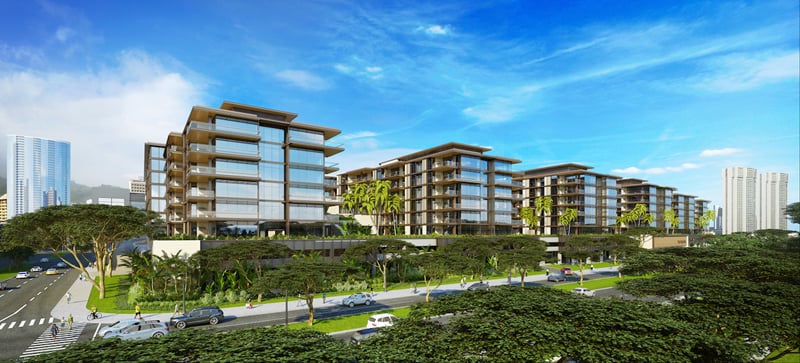 You can't miss all the construction at Ala Moana Center in the last year, as The MacNaughton Group, Kobayashi Group, and BlackSand Capital LLC work with General Growth Properties to build a new luxury condo development. And today, 107 of the owner-occupant residences are available for sale.
Interested buyers scoured the public notices for the announcement of sale, and people started lining up as early as 2 a.m. Friday, Jan. 9 to get the best choice of these units.
Park Lane Ala Moana is located at 1388 Ala Moana Boulevard and will be connected to the makai-Ewa side of Ala Moana Center, where Sears used to be, extending about one-quarter mile along Ala Moana Boulevard from Neiman Marcus and wrapping around to Pi'ikoi Street. The community is composed of seven, six-story buildings for a total of 215 homes ranging from 850-square-foot one-bedroom residences to expansive 6,000-square-foot five-bedroom penthouses. Two additional levels are reserved for private residential parking. Prices start at $1.192 million for one-bedroom residences and go up to $28 million for the five-bedroom penthouses.
Units are designed to take advantage of ocean views; some residences will feature tropical gardens, private pools or spas, and private enclosed garages—like living in a single-family home. Units will also have lanais ranging from 300 to 1,100 square feet with vented outdoor grills and cooking areas.
Park Lane residents will also enjoy resort-like services that you find at Kobayashi Group and The MacNaughton Group's other successful residential developments such as Hokua at 1288 Ala Moana, ONE Ala Moana, and Kukio on Hawai'i Island. Access to a private "Park Lane"–a landscaped, art-filled, and beautifully designed walkway modeled after New York City's celebrated High Line–will lead residents to their own entrance to Ala Moana Center. Other features include a Great Lawn, 24-hour security, and a state-of-the-art spa and fitness facility.
The construction of Park Lane residences coincides with Ala Moana Center's current expansion and redevelopment, which includes the addition of the state's first Bloomingdale's. Upon completion in 2015, Ala Moana Center will encompass almost 3,000,000 square feet of retail space; an enhanced center court area and stage; and fresh amenities in the Makai Market food court.
Park Lane is being constructed in phases; phase one is expected to be complete by late 2016 with the final phase being finished by the end of 2017.
The Park Lane Ala Moana Lounge will be open on Saturday, Jan. 10, 2015 from 8 a.m. to 5 p.m. to begin sales. It is located on the ground floor of Hokua at 1288 Ala Moana Boulevard, Suite 104.
Exclusive Project Broker for Park Lane Ala Moana is Heyer & Associates LLC.
For more information on Park Lane Ala Moana, visit parklanealamoana.com.