Sales by neighborhood: July 2013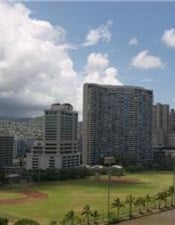 The Ewa Plain and Waikiki came out on top last month, according to July neighborhood residential resale statistics released by the Honolulu Board of Realtors.
The Ewa Plain saw the most single-family home resales – 50 – while Waikiki topped the list for condominiums at 112.
There was good news in other neighborhoods, too. The number of home resales in Makakilo, the North Shore, Waipahu and the Windward side saw triple digit percentage increases over July 2012. Similar percentage increases for condominium sales were seen in Makaha-Nanakuli, North Shore and Waipahu.
In addition, single-family homes in Downtown-Nuuanu resold much faster than they did a year ago – closing in an average of 23 days, compared to spending 78 days on the market last year. The fastest selling neighborhood for single-family homes was Aina Haina-Kuliouou, where homes spent an average of six days on the market. For condos, the fastest sellers were in Kailua-Waimanalo, where units spent an average of seven days on the market.
Meanwhile, single-family homes in Waialae-Kahala had the highest median price at $1.404 million, a 57 percent increase over July 2012. The Ala Moana-Kakaako area had the highest median sales prices for condominiums at $595,000, a 50 percent jump over last year.
In terms of the largest price increases, the Windward Coast saw the most significant jump. The median sale prices for single-family homes in the area was $730,000, a 437 percent increase over last July. Kalihi-Palama condos saw a 79 percent rise to $415,250.