Ritz-Carlton sales event Saturday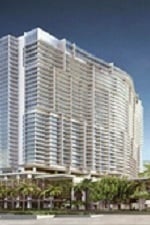 The Ritz-Carlton Residences in Waikiki aren't scheduled to open until 2016, but the units are selling now.
An invitation-only sales event on Saturday—held simultaneously in Tokyo, Shanghai and Waikiki—could take all remaining units off the market. Anyone curious to see how the units are moving can watch an availability board on the developer's website. "Wherever you are, you can watch online as the units begin to sell," notes Larissa Dundon, a host for the private sales event.
The 309 units have been on the market since April and the number remaining will be disclosed at the event on Saturday.
If you're interested in claiming a piece of the luxury 38-floor high-rise on Saturday, you'll have to register online. You'll also need to commit to paying anywhere from $650,000 for a studio to more than $15 million for a penthouse.
Those attending the event can enter the showroom at 2 p.m. on Saturday to hear from the developer and talk to the sales team. (In Waikiki, the showroom is located at 2112 Kalakaua Avenue, in between Coach and Yves St. Laurent.) Those registered will then be able to go upstairs to begin selecting their units from about 2:30 p.m. "There will be a bit of a celebration," Dundon says. While she doesn't know how many people have registered so far, she adds, "I would expect it will be pretty lively."
Those who purchase one of the 309 units will own a home in Waikiki with all the luxury associated with the Ritz-Carlton brand. Dundon said many of the residences already sold have gone to international investors.
As announced in April, the Ritz-Carlton Residences in Waikiki will be run like a luxury hotel, with room service, a concierge desk and bell service. The property will include two pools, a fitness area and spa, a kid's lounge, an entertainment room and gardens, as well as a sushi restaurant and a Dean & DeLuca market.
For more information, visit the Ritz-Carlton Residences, Waikiki Beach website. You can also view the showroom on Facebook.