Riding Bikes with Family on Oahu
Health Benefits of a Two-Wheeled Road Trip with the Kids.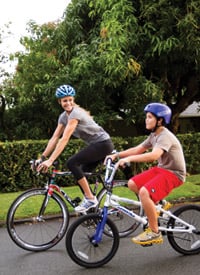 Fresh air, exercise and family time are combined into one for the family that bikes together. A bike ride on a sunny day entices kids and adults alike, providing a healthy way for parents to unwind on a Saturday afternoon and to get kids off the couch and moving. Have a baby or toddler? Strap him or her into a bike seat behind you to let them enjoy the sun and the sights, too.
Cycling is enjoyable for all ages, and builds cardiovascular fitness and strength without the impact that running or lifting weights can have on joints and bones. Personal trainers everywhere are touting core workouts as key to avoiding back pain and injury, as well as tickets to the chiseled abs that mom, and maybe even dad, had before she packed on the pregnancy pounds.
Riding a bike outside requires balance, and balance requires that you use your core muscles. No gym membership required, just get outside and go! Unlike time on a stationary bike or treadmill, watching the clock, followed by counting crunch sets, outside riding your bike you're too busy taking in the scenery and waving hello to other cyclists to notice the exercise.
My children would rather exercise their thumbs on an Xbox controller than participate in a team sport or go for a jog, but a bike ride around the neighborhood or to the store or library persuades them, and me, to get moving every time.
Starting from Scratch
For recreational cycling, consider starting off on a beach cruiser, mountain bike, or BMX bike for kids. A beach cruiser is comfortable, low-maintenance and perfect for flat, paved neighborhood rides. A mountain bike is more versatile, and is comfortable for recreational rides, commutes and trail rides. A BMX bike is a classic—what kid can turn down a ride on a friend's pegs? There are bike shops that offer a full range of bicycles for both children and adults all over Oahu, such as the Bike Factory in Kakaako and the Bike Shop in Kailua. If you're on a budget, check out the bike section of Craigslist for a used bike, or a shop that sells bicycles on consignment, such as Boca Hawaii (also located in Kakaako), to keep it inexpensive. My sons' BMX bikes were $150 each at Costco, and my beach cruiser was $75 on Craigslist. As you would with a new car, take the bike for a test ride to make sure it feels comfortable prior to purchasing. If it's not comfortable, you're not going to want to get out and go.
Never skimp on safety equipment. Safety helmets are inexpensive ($20 to $60) and available at bike shops, sporting goods stores, and even Walmart and Target. My boys prefer the look of skateboarding-style helmets, and I like them because they provide even greater coverage than cycling helmets.
For a baby or toddler, look for a bike seat that attaches to the rear of an adult bike. Bike seats can be purchased at bike shops and online, and cost anywhere from $60 to $150. A bike seat can make balancing surprisingly difficult, even for an experienced cyclist, so be sure to take your bike for a spin once the seat is attached to get accustomed to the new weight before you strap the baby in. Don't forget that even passengers need helmets.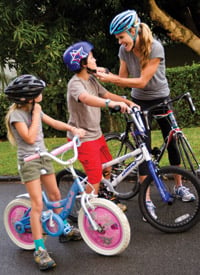 Location counts
The best place to get your little ones riding comfortably is your local soccer field. Whether they're just learning to ride without the training wheels or you're getting back on the bike for the first time since the eighth grade, a flat, grassy field makes the prospect of a fall less daunting. Once everyone is comfortably up and riding, consider branching out from the neighborhood. Oahu has scenic and safe bike paths perfect for a family adventure. Sunscreen up, pack some water, snacks, and the bicycles, helmets and family, and head out to any of these cycling destinations:
Magic Island. The outer loop of Magic Island, hugging the coastline as closely as possible, measures three-quarters of a mile, and there are various other paths to cut across, around and through to vary the distance and scenery. The whole family can ride together, safely, while checking out the surf or sunset, and the only hazards to watch for are walkers, joggers, and an occasional bride and groom. With ample water fountains and restrooms available, Magic Island is a great venue for a short ride in town.
Pearl Harbor Bike Path. The Pearl Harbor Bike Path is 10 miles long, starting from the Pearl Harbor Visitor Center and ending at Waipio Point Access Road. The easiest place to park is at Kamehameha Highway and Kaahumanu Street, but you can jump in anywhere along the way. Be sure to bring your own water and a camera if you're a history or battleship buff, because there are great views of the USS Missouri and the Arizona Memorial. The path is flat and runs along the coastline, with a few street crossings and fun features like wooden bridges. Be sure the kids know to stop and wait at intersections, and keep an eye out for obstacles like poles dividing the path, tree litter and some patches of rough pavement.
Ke Ala Pupukea. Ka Ala Pupukea, often referred to as the North Shore Bike Path, starts at Shark's Cove, across from the Pupukea Foodland, and meanders along three miles of some of Oahu's most famous beaches, ending just past Sunset Beach. Packing water is recommended, but there are beach parks along the way with water fountains and restrooms. On a recent ride, we packed a picnic lunch in a backpack and stopped off at Ehukai Beach Park to enjoy lunch and views of some of the most amazing surf and surfers found anywhere in the world. The path is paved and flat, with only a few road intersections along the way, and, while more crowded than the Pearl Harbor path, feels safe for the family. If you get lucky, you might even run into the Impossible's Pizza Truck often found parked somewhere along the path. Park at Shark's Cove, Sunset Beach or at a beach park anywhere in between to get started.
Koko Head BMX Track. When the family is ready for more advanced and adventurous riding, consider the Koko Head BMX Track, located just above the highest baseball field at Koko Head District Park in Hawaii Kai. The dirt trail system has twists, turns and jumps, and occasional organized BMX events. Check in with the Koko Head District Park Office for a waiver form and events.
Whether it's 20 minutes of fitness or a daylong adventure, a family bike ride is sure to be fun for all.