Retiring rich — in Pauoa?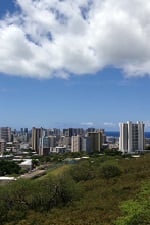 Thanks to Forbes Magazine, Pauoa Valley might be getting more attention.
In last week's issue, Forbes ran an infographic on 25 places to retire rich. Honolulu earned a place on the chart, with the comment "especially the Waialae, Kahala, Nuuanu and Pauoa neighborhoods."
The first three are obvious choices. I'm just not sure I would have made Pauoa my fourth though, so I decided to look into it.
Located on the slopes of Punchbowl Crater, Pauoa is close enough to the heart of urban Honolulu to appeal to those who need to be close to the city but prefer a suburban home over condo living. It's lush and green, a bit cooler than other parts of the island and homes high on the crater have a stunning view.
How rich do you have to be to live there? A few searches of Pauoa and Punchbowl turned up five properties ranging from $788,000 for a 3-bedroom up to $1,275,000, also for a 3-bedroom. In between, you can find properties with more bedrooms under $900,000.
In nearby Tantalus, however, you can't find anything but an empty lot for under $1 million, which makes me wonder if the area was includes in the Forbes research.
If I've missed a hidden gem in Pauoa, feel free to comment here or email.
(h/t Melissa Chang for pointing out the Forbes chart.)