Family Restaurant Review: Moku Kitchen
With hand-tossed pizzas and small plates for sharing, this restaurant is a comfortable choice for families.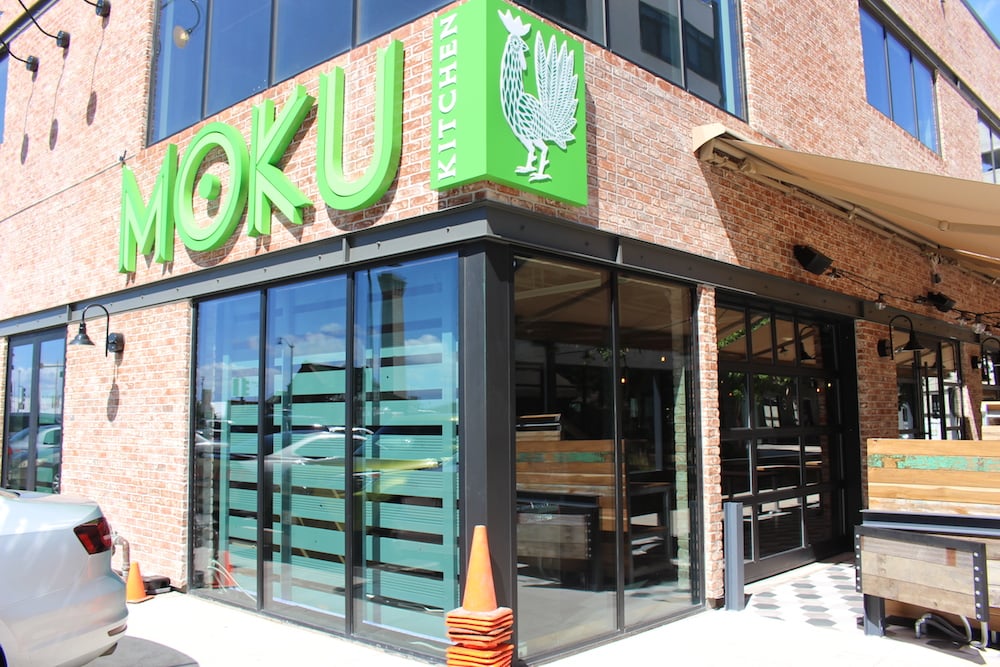 Photo by Catherine Toth Fox
Moku Kitchen anchors Salt at Our Kakaʻako at the corner of Ala Moana Boulevard and Keawe Street.
Dining out with our families–at venues other than fast-food joints or chain restaurants–requires smart planning. As parents, we choose restaurants that serve foods our kids typically eat. We schedule the meals around naps and activities. We arrive at the restaurants with toys for distraction. Then we hope that everyone behaves.
Sometimes, it's just easier to stay home and cook.
Or is it?
To help you decide, we've launched a new series, "Family Restaurant Review," featuring local eateries that welcome kids. We hope these will enhance your family's experiences around the food table. Food you don't have to cook, of course.
We will begin every review with our "Family-Friendly Checklist," six items parents want to know before deciding if the restaurant is a good fit for their little ones. Then, you'll read reviews from HONOLULU Family and HONOLULU's dining teams. This week's review, Moku Kitchen, by HONOLULU Magazine food editor Catherine Toth Fox, originally was published when the restaurant first opened in October 2016.
FAMILY-FRIENDLY CHECKLIST:
Ambiance: Nearly 300 tables in a casual dining room with floor-to-ceiling windows. Outdoor seating is available.
Parking: Validated parking in the Salt at Our Kaka'ako lot for $3 for three hours.
Bathrooms: Bathrooms are clean and child-friendly. There is a diaper-changing station in one stall in the women's restroom.
High Chairs/Stroller-Friendly: Strollers can fit in between chairs and tables. High chairs are available.
Keiki Menu/Takeout Option: The keiki menu has cheeseburger, cheese pizza, quesadilla and saimin for $8 each. For veggies, such as broccoli and brussels sprouts, order a side dish from the main menu. For take-out, call (808) 591-6658 and pick up your order from the hostess booth.
What To Know: Happy hour is from 3 to 5:30 p.m. daily, and live music is from 5 to 7 p.m. daily.
Moku Kitchen, the newest restaurant concept by award-winning chef Peter Merriman, is a blend of two things: His commitment to scratch-made dishes using local ingredients and a keen understanding that this location, anchored in the Salt complex in Kaka'ako, will appeal to more locals than vacationers.
While you'll still find Monkeypod Kitchen favorites here, including a variation on the pumpkin-patch ravioli and Jidori chicken wings with house-made tzatziki sauce, Moku offers noodles, tacos, kiawe-wood-fired pizzas, roadside-style burgers and a slew of dishes roasted in the restaurant's in-house rotisserie—all at a lower price point.
"This is an urban market," Merriman says. "We wanted to create something geared more toward local people."
Moku Kitchen inhabits the largest restaurant space in Salt, sprawling over 7,000 square feet on the corner of Ala Moana Boulevard and Keawe Street. The restaurant boasts about 290 seats, including a stretch of outdoor seating, and a 46-foot-long bar made from mango wood with 36 beers on tap—served at 29 degrees Fahrenheit—and 12 biodynamic and sustainable wines also on tap. Moku joins several other restaurants in the complex, including Hank's Haute Dogs, 9Bar HNL, Bevy, Village Bottle Shop & Tasting Room and Highway Inn.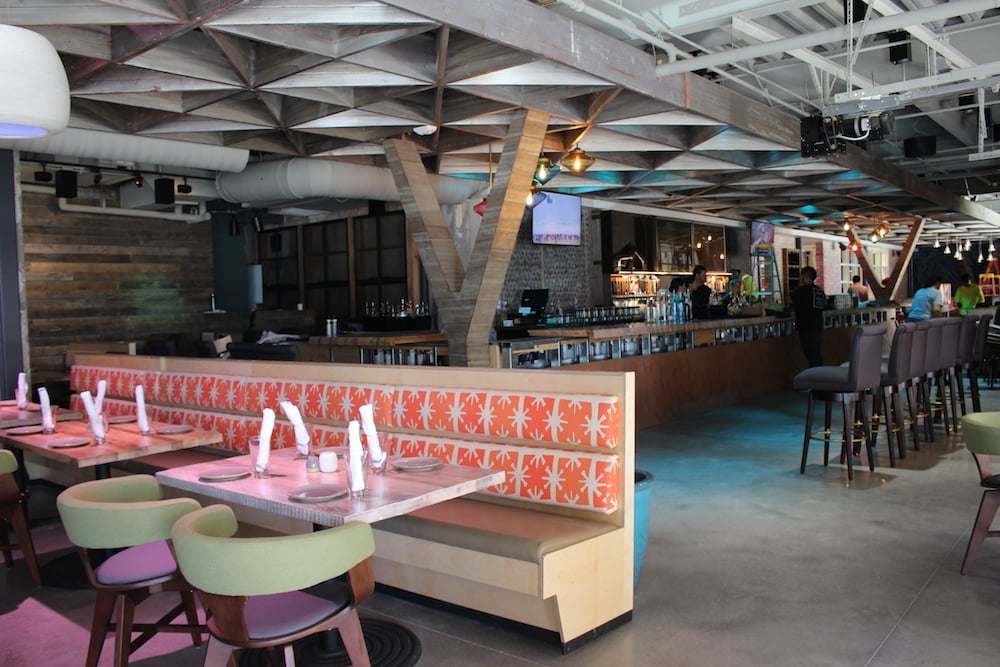 Photo by Catherine Toth Fox
Inside the restaurant, with a 46-foot-long bar and nearly 300 seats.
Moku plays with the theme "Upcountry Downtown," which points to the use of locally sourced ingredients (upcountry) to an urban area (downtown). The kitchen uses Maui onions, tomatoes from Hau'ula, mushrooms from Hāmākua, greens from Waipoli Farms on Maui, pasture-raised beef from Hawai'i Island and local goat cheese. And everything—from the ravioli pasta to the hamburger buns—is made from scratch in-house.
The centerpiece of the kitchen—maybe the entire restaurant, since it's the first thing you see when you walk in—is the expo-rotisserie roaster that one of Merriman's team told me "is hard to find and almost didn't happen." From this roaster comes at least nine different menu items, from slow-fire-roasted Big Island prime rib with old-school jus ($28) to a succulent rotisserie duck with ginger, a shoyu glaze and a mole sauce ($31). The herb-marinated half-chicken ($27) practically falls off the bones—you can cut it with a butter knife. It comes on a bed of organic local greens, vine-ripened tomatoes, kalamata olives, feta, mushrooms and tomato compote.
The pizzas are a source of pride for the restaurant, too. Baked in a kiawe-wood-burning pizza oven, these 10-inch pies are hand-tossed and made with a crust fermented for three days, which gives it a nice rise. You can get a basic margherita pizza with local tomatoes and fresh mozzarella ($12) or one topped with smoky kālua pork and roasted pineapples with a macadamia nut pesto ($16).
Two menu items stood out for me: the noodles—a saimin with pork, broccoli, red onions, peanuts and cilantro ($14) and a Maui-style, dry-mein noodle dish ($13)—and the variety of burgers, from classic thick patties to thin, crispy "smashed" burgers you see at roadside stands on the Mainland. The burgers are served on house-baked buns and are best accompanied with hand-cut fries and slightly tangy house-made ketchup.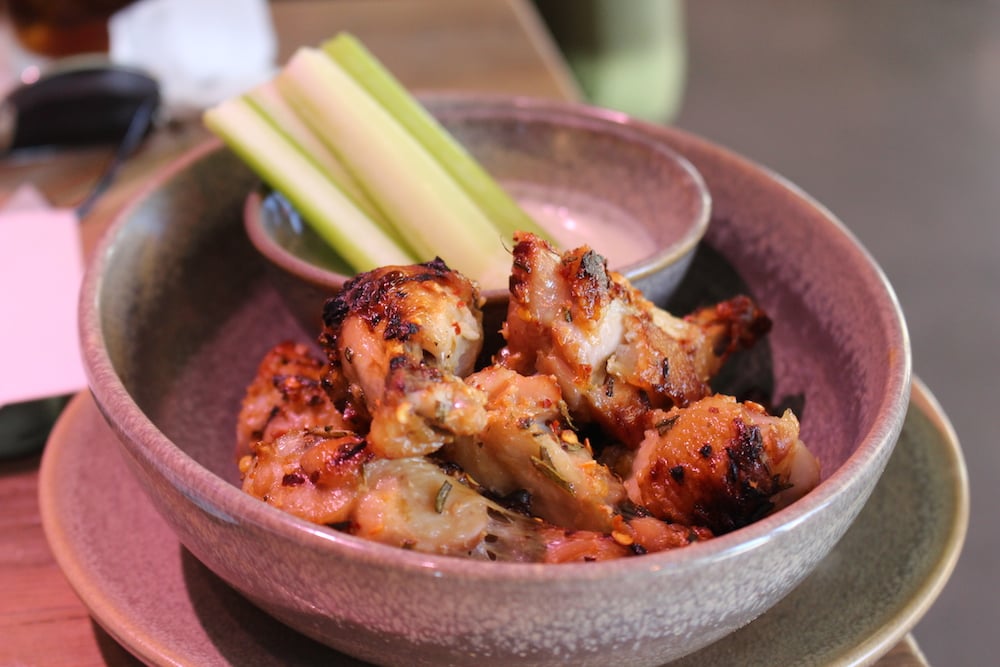 Photo by Catherine Toth Fox
The fire-roasted Jidori chicken wings, popular at Monkeypod Kitchen, are on the menu here, too. Theyʻre seasoned with garlic and rosemary and served with a house-made tzatziki sauce.
Veggie fiends will find four substantial salads on the menu, all using local greens and light on the dressing. The bright organic kale salad ($11) is a standout, with shaved Maui onions, golden raisins, oranges and macadamia nuts, all tossed in a miso-sesame vinaigrette.
You can't eat at a Merriman's restaurant without sampling the cream pies—and all the favorites are here. Each slice is $8 and you can choose from chocolate-macadamia, banana, haupia or his best-selling strawberry, with an ultra-light whipped cream, guava jelly glaze and fresh strawberries. Consider it your daily fruit serving.
Moku Kitchen, Salt at our Kaka'ako, 660 Ala Moana Blvd., #145, open 11 a.m. to 11 p.m. daily, 591-6658, mokukitchen.com