Resort Wear in Honolulu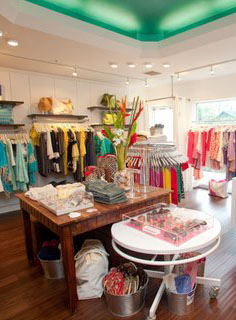 Tucked inside the Kahala Hotel & Resort and focusing on a luxury beach lifestyle, Becca Beach has obvious appeal to visitors. But the boutique, which opened last December, has steadily gathered a following among Honolulu locals as well.
You'll find upscale resort wear by local brands, such as swimsuits by LeTarte and featherweight, bamboo/Tencel sweaters by Stacia. Yet owner Joanna Beall also brings in new finds like Sydney, Australia's Suboo—Becca Beach is the first store in the U.S. to offer it—as well as totes by Halsea and juice-colored tunics by Calypso. Everything is super-soft and relaxed, from the cotton beach cover-ups, to delicate jewelry, silk pareos, beach hats and some girls' clothing, like coverups by Fighting Eel's Baby Eel.
Beall honed her taste working at Agnes B, Donna Karan and Ralph Lauren, and says she stocks her store with Island and West Coast designers, with a few East Coast lines, too. "If it's a new fabulous line and from Hawaii, I want to carry it," she says of her philosophy. She doesn't focus on the trendy, so much as "beautiful, high-quality things you can wear daily."
Prices run $150 to $450. If you're hunting for something new, check out the rouched styles of Tori Praver swimsuits, from Maui, the Hawaii-made jewelry from Pua and LK Atelier, or the sunglasses, by Salt. Merchandise arrives weekly; Beall suggests following the store on Facebook, where she posts photos of the new offerings.
Open 10 a.m. to 7 p.m. daily. 5000 Kahala Ave., Suite 2, 739-8862.