Resort Living in Ewa Beach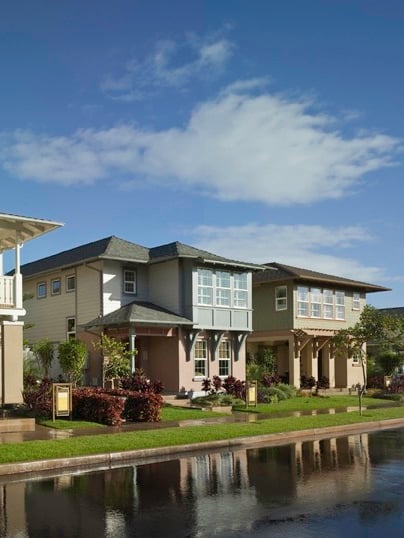 There's a local joke that goes:
Question: "How long does it take to get to Ewa?"
Answer: "For-ewa and ewa and ewa."
OK, so it's kind of lame, but it always comes to mind as I'm driving past all of Ewa Beach's new-home developments. Clearly, a lot of people must not mind the commute, or, in the very least, builders are betting on the fact that they don't. Perhaps it boils down to "if you build it, they will come." Design the all-inclusive community, put up the houses, the parks, the fitness centers, the shopping centers and other amenities, make it relatively affordable, and buyers will heed your real estate siren call.
Among the most ambitious new communities is Ka Makana at Hoakalei, a resort community that is already home to approximately 200 families and the private, 248-acre, Ernie Els-designed Hoakalei Country Club Golf Course. The first residential component to be developed at Hoakalei, Ka Makana will have, at its completion, just under 900 homes and the Ka Makana Swim Club, a fitness center, pool and spa situated on an acre of land in the center of the neighborhood. There are six different series of homes, each named after a native tree—lehua (temporarily sold out), hala, kukui, milo, banyan and koa—and several different housing options within each series (there are 22 model homes; 19 of which are currently available), each differing by square footage and layout, and all with a dizzying number of upgrades.
A stroll down the model-home street revealed a planned-to-the-last-detail neighborhood, where every shingle, tropical plant and rain gutter was selected to create a cohesive and thoughtful design. Each exterior varies slightly, either in color palette (eight to 10 different exterior color schemes are available), wood trim, lanai orientation or window treatments (many feature functioning exterior wood shutters, which add a nice plantation touch). As is the trend these days, the garages are located in the rear, separated from the homes by smallish yards, with front lanais facing the streets. This design detail, coupled with the houses being built closer to the street, was done very much on purpose, I'm told by Richard Dunn, Haseko Realty's executive vice president and principal broker, as a way to encourage interactions between neighbors and create a more pedestrian-friendly community (it's also, in my opinion, far more aesthetically appealing).
The more affordable, starter homes can be found in the hala and kukui series, which include one- and two-story residences with three to four bedrooms and two to three bathrooms priced in the low-$500s to low-$600s. The homes, which range between 1,745 and 2,768 square feet, have plenty of front and rear lanai space, cozy backyards and enclosed garages. The interiors, even in the smaller layouts, manage to feel quite spacious, due to fairly high ceilings, plenty of windows for natural light and earth-toned materials (optional wood floors, cream-color carpets and tan Corian countertops, all of which can be customized).
The milo and banyan series seem well suited to families in need of more space, which, for the $650,000 to $826,000 price range, they have in spades. The most affordable residence in the milo series is built with three bedrooms, a study and two bathrooms, while the largest and most expensive in the banyan series comes with five bedrooms, three bathrooms and a two-car garage plus carport. All of the kitchens in these particular series are wonderfully done—open, fully outfitted and functional.
The koa series is the priciest, but comes with a lot of amenities for the hefty $1 million-plus price tag. For starters, these homes are gigantic (3,850 to 4,728 total square feet), they're located on the golf course, plus they come standard with stainless-steel Viking and Sub-Zero appliances and granite countertops.
Hoakalei is many years from completion, though it will be something once it's done. Located about a mile-and-a-half down the road from Ka Makana, Hoakalei will include a private marina, which will be 19 feet deep and have 600 to 800 slips, making it one of the largest in the state. Surrounding the marina will be a mile-long promenade with a farmers' market, boutiques and restaurants, as well as a nearby hotel, a private beach/canoe club, mid-rise condos and two cultural sites where guests can learn about Native Hawaiian history.
Contact: Ka Makana Sales Pavilion, 91-1322 Keoneula Blvd., Ewa Beach. 689-4438, www.hoakaleiresidences.com.