Relaxed and seriously tasty: James Beard Dinner, Mauna Lani Bay Hotel
Celebrity chefs Michael Symon and Jonathan Waxman cook up six great courses at the Mauna Lani Bay Hotel James Beard Celebrity Chef dinner. All relaxed and family style.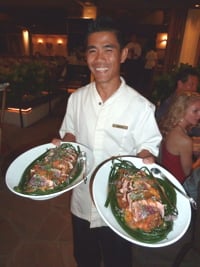 "Who cooked which course?" one of the guests asked Michael Symon. "We didn't want to do it that way," said Symon. "They were all a collaboration between me, Jonathan [Waxman] and Sandy [Tuason, executive chef of Mauna Lani]. We found a lot of great stuff on this island and put it all together."
"We're the custodians of the people who work the fields, the ranchers and farmers," said Waxman. "You don't know how blessed you people are, especially compared to those of us from the cold East. We just served it in the simplest, most rustic style."
The six courses came out family style. "Eating's about sharing, serving each other," said Waxman.
"So I hope you don't mind we forced it on you," said Symon.
Nobody seemed to mind. The food came out in considerable quantities. First a shaved vegetable salad, a Waxman signature (left). "I stole it for my restaurant too," said Symon. "He should pay me a nickel for each one he serves," said Waxman. Touched with goat cheese, this was remarkably colorful, dotted with carrots, hearts of palm, shaved watermelon radishes and mac nuts.
Then a pause. When the next course came out, it was a medley of Kona shellfish and Kauai head-on prawns (below right) on a thoroughly spicy coconut milk broth, fragrant with star anise, tangy with lime zest, zapped with jalapeño. It came with a side of rice, which seemed like an odd note, though it was helpful for sopping up the broth. The only problem was the Martin Ray chardonnay that came with the course. When will people learn that oaky California chards just don't marry well with spice?
Symon's wife Liz was at our table. Symon dropped by. "Hope you didn't notice the delay. I screwed up. I started plating the ahi when Sandy came by and said, 'Hey, what are you doing? The next course is the shellfish.' We just added some
sushi rice and sent it out."
When it arrived in its proper order, the ahi was worth waiting for. Imagine an ahi porterhouse, if you will, inches thick, seared over high heat on a kiawe grill, on a rich simple base of grilled heirloom tomatoes, surrounded by pohole ferns.
Then, a great moment. Time to bring in the pig. Our share, which was considerable, arrived as rustic looking as suckling pig should, with a huge bowl of Symon's polenta. "I made enough polenta to feed the whole island," said Symon. "I couldn't help myself. I had a Sicilian grandmother."
The polenta, soft and creamy with butter and mascarpone, was especially great with the strips of pork crackling that circled each platter of pork.
The pork was topped with a salsa verde: fresh herbs, olive oil, capers, anchovies (left).
"Simplest thing in world," said Symon. "And most chefs screw it up. When you get it right, it just makes pork pop." Also of some help in making the pork pop: A Benziger merlot from Sonoma. I recommend it next time you're rescuing all the remaining pork crackling from the platter and scooping it up with polenta.
How could anyone be still hungry? Somehow the platters of stuffed Kahua Ranch lamb restored everyone's appetite. See that little covered white bowl on the lamb platter (below right)? Beans. Really. The chefs had braised the lamb necks and used them to cook up Tuscan white beans. Just as the bowls were about to go to the table, exec chef Sandy Tuason shaved winter truffles onto each one. When you lifted the top, the aroma just rocked you back in your seat. One of the best things all night.
Dessert was plated, a pretty affair of cassis sorbet and a Waialua chocolate dome. But lurking in the background of the whole dinner was celebrity bartender Manny Hinojoso. Before dinner, he'd made the cocktail that won him $10,000 in a Las Vegas competition, the Cielo Rosso (a concoction of Grey Goose L'orange, grapefruit juice, and Compari, more palatable than the ingredients would indicate). Then, just for the fun of it, he made a lemongrass and hibiscus syrup Tom Collins which, crisp and light, seemed to match the salad better than any wine you could imagine.
"I stay in the background until the finish line," said Hinojoso. "Then, dessert, I show them what I can do." What he can do is perhaps the creamiest, smoothest hot chocolate you can image—especially if you can imagine hot chocolate with kick of spice and deft touch of tequila and cognac. It blew everyone away.
"Manny's the only bartender I've ever met who thinks like a chef," says Waxman.
The crowd, 175 people who'd paid $250 a head, seemed enchanted with this dinner under the stars—with only the briefest blessing of rain. The evening ended with the chefs being besieged for autographs, and a call for hana hou.
The president of the James Beard Celebrity Chef Tour, Jeff Black, took the mike. "We've gone all over the country, but this was something else. What a setting," he said. "Don't think we can match again until next year. What do you say? Same weekend? Same chefs?"
May well happen. Stay tuned.