We Tried It: Are Luxury Movie Theaters Really Worth the Splurge?
One familyʻs experiences in the new reclining seats at Regal Kapolei Commons 12, 'Ōlino by Consolidated Theatres and Ward 16.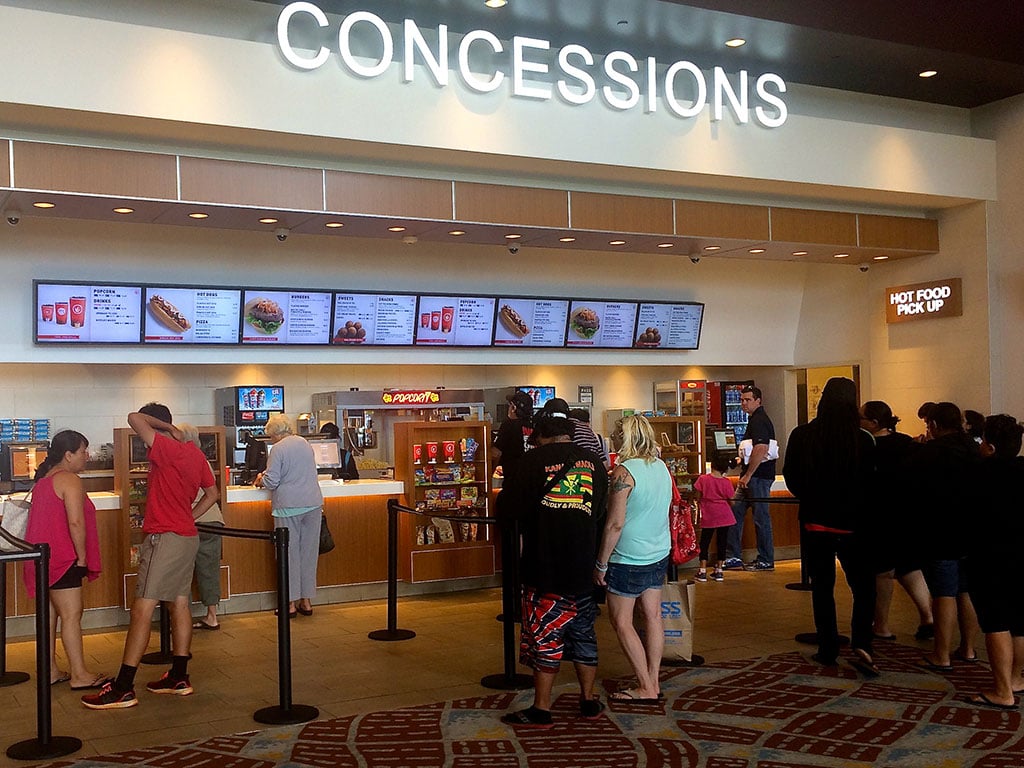 Photo: Cathy Cruz-George
The concession stand at Regal Kapolei Commons 12 includes a kimchi hot dog, lemongrass chicken pizza, and malasada bites along with the usual popcorn and sodas.
Editor's Note: Consolidated Theatres just announced in January 2018 that luxury recliner seats have been installed at the Pearlridge Theatres in 'Aiea. Moviegoers there will also be able to reserve seats. Mililaniʻs theaters will be next to be renovated in February. The seats are similar to those Cathy Cruz-George tried at both Ka Makana Ali'i and Ward Theaters.
Every time my family sees a movie, we have a ritual: My husband and I sit on both sides of our (lightweight) daughter while holding down her seat with our knees. We sit in this position for the entire movie so that her seat doesn't snap shut—and squeeze her like the filling in a kid sandwich.
When we heard that select movie theaters on O'ahu had installed new recliner seats, we wanted to test them out for ourselves. The recliners, with the push of a button on the armrest, elevate one's legs and lean back the head. Plus, there are swivel tables with cup holders. The best part: My husband and I no longer have to weigh down our daughter's seat for two hours.
There are a few more bonuses for families and bigger groups. The aisles are wider, so there is enough space to easily make those mid-movie bathroom runs. The seats are also assigned and reservations are required, due to limited numbers per auditorium, meaning that you can ensure seats together.
Over the course of five months, we watched five movies at our neighborhood Consolidated Theatres Ward 16 and caught two more films in Kapolei at the Regal Kapolei Commons 12 and 'Ōlino by Consolidated Theatres at Ka Makana Ali'i shopping center.
Ticket prices for recliner seats are slightly higher than standard fare. Adult tickets range between $13 and $20 each (compared to $9 to $13). Kids tickets are from $10 to $12.50 (compared to $8 and up). The theaters often are not included in special admission discounts, including $6 Tuesdays at other Regal theaters and $1 summer keiki movies at both Regal and select Consolidated theaters.
To experiment with purchasing methods, we bought tickets at the box office and on the websites for Consolidated Theatres, Regal Cinemas and Fandango, paying "convenience fees" ranging from $3 to $5 per online transaction.
Reservations tip: If you buy online tickets, send the confirmation number to your phone. When you arrive at the theater, be prepared to input that number on the touch-screen kiosk in the lobby of the theater. (Like self check-in kiosks at airports!) Knowing your reservation number will reduce frustration when barcode and mobile scanners on the kiosks don't always work.
We also experimented with different vantage points and sat in different rows for every movie.
Seating Tip: If you have small children, avoid seats in the upper rows, because kids can't see over their swivel tables and popcorn boxes. Another seating tip: The first row–with fully reclined seats and magnified faces onscreen–is akin to sitting in a dentist's chair.
So … the big question: Are reservations-only, swivel-table, luxury-recliner seats worth higher ticket prices?
YES! Without a doubt. They are definitely worth the extra $3 to $5 per person. After our little experiment, my family has no desire to return to traditional movie-theater seats.
Then again, we don't have TV at home. So, we're easily impressed.
'Ōlino by Consolidated Theatres at Ka Makana Ali'i
91-5431 Kapolei Parkway, #600, Kapolei
Movie: A Dog's Life. Saturday matinee
Theater: This luxury, eight-screen complex in the Ka Makana Ali'i shopping mall in Kapolei has immaculate hallways, concierges behind the lobby desk and modern bathrooms worthy of a five-star hotel's lobby.
Seats: Auditorium 6, Row B (second row). The canines in the movie were fun to watch up-close, but we don't recommend the first three rows for action movies with lots of motion. Hello, nausea.
Food: The signature 'Ōlino Burger with fried onions, caramelized onions and garlic mayo. Green bean fries with dipping sauces. For dessert, mini pies and macarons.
Tips: Ka Makana Ali'i is a family-friendly shopping center. On Fridays and Saturdays, visit the Center Court for keiki fitness, story time and live music.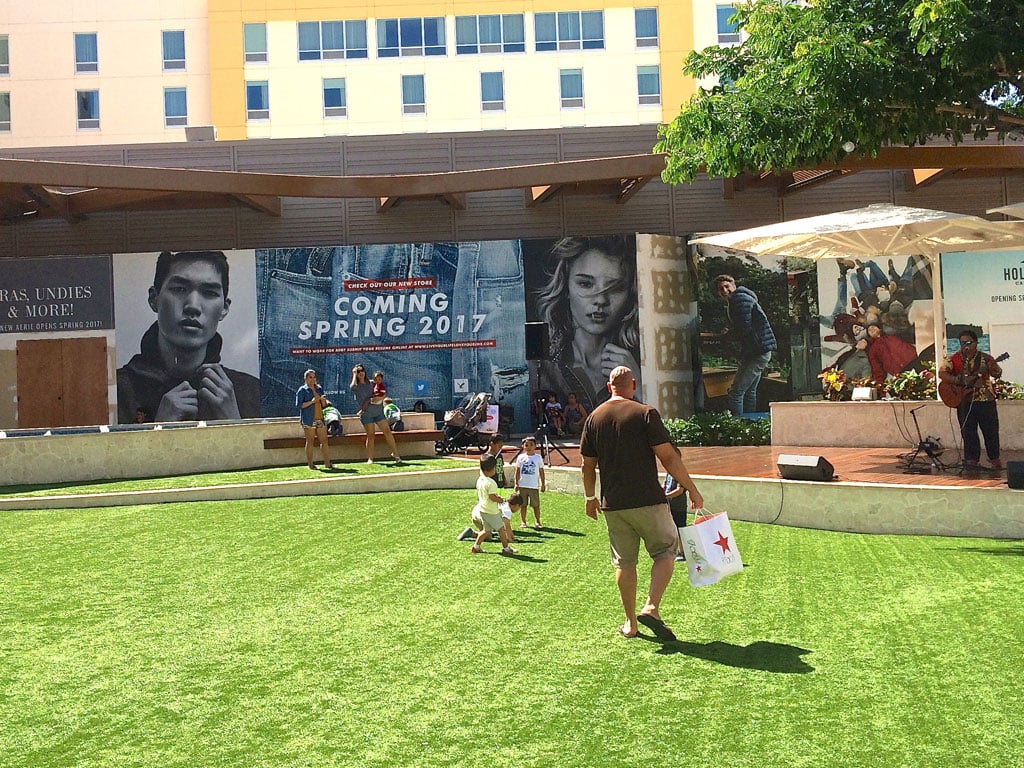 Photo: Cathy Cruz-George
The grassy area at Ka Makana Ali'i is a popular place for kids to run around.
4450 Kapolei Parkway, Kapolei
Movie: Born in China. Saturday matinee
Theater: Located in a fast-growing area of Kapolei, this 56,000 square-foot complex has giant, wall-to-wall screens and electric, king-size recliner seats. Of the three theaters we visited, parking here was the easiest. It also was named the Best Movie Theater for Families by HONOLULU Family readers this year.
Seats: Auditorium 2, Row C (third row). The seats we reserved in the lower half of the auditorium were ideal for Born in China, a scenic, documentary film.
Food: Pizzas and hamburgers topped with kimchee, lemongrass chicken and Kalua pork. Starbucks coffee and hot chocolate. Side dishes including spring rolls, jalapeño poppers and loaded fries.
Tips: Catch a movie in between errands at nearby Target, Ross and Down To Earth.
Consolidated Theatres Ward with Titan XC
1044 Auahi St., Honolulu, 96814
Movies: SING, Moana, Trolls, Beauty and the Beast, and Smurfs. Friday and Saturday evenings, Christmas Day, and a weekday matinee.
Theater: This multiplex theater at Ward Village Shops is part of a sprawling, retailtainment center in Kaka'ako. If you go on a weekend or at night, you could spend up to 15 minutes looking for an open parking stall. Valet parking in the upstairs lot is $7, while the outdoor valet service to the left of the theater is free and tips-only.
Seats: We sat in different sections, every time. (Again, avoid the highest row and the bottom first row.) What stood out was the auditorium with recliner seats and the "TITAN LUXE with Dolby Atmos," perfect for a musical film like Trolls. We also watched Beauty and the Beast in the "TITAN XC" auditorium with a giant screen and top-quality sound, but we didn't care for the rocking chairs (read below).
Food: The Premiere Menu features a Liliko'i Fried Chicken Bowl, Banh Mi Style hot dogs and Okonomiyaki Fries, which were a hit for my group, but we needed extra napkins. Families seated near us usually bought the Kids Combo, a rectangular box with popcorn, one drink and a candy.
Tips: Seating can be confusing. Recliner seats with TITAN sound are available only in rooms nine through 16 (which is the Premiere Wing to the right of the concession stand.) For standard, folding seats that don't need reservations, head to rooms one through seven. Meantime, auditorium No. 8 has the TITAN XC sound system, but the seats only rock back and forth–no footrest and no recliner.