Recipes for Restaurant-Quality Home Cooking
Tired of roast turkey and baked ham? Local chef Jason Takemura recommends some tasty alternatives.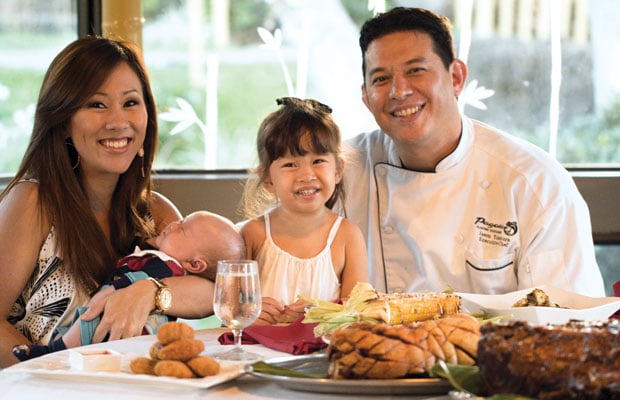 Photos: Karen DB Photography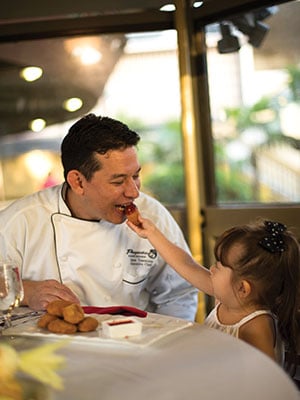 Nothing beats tradition, but sometimes you need to spice things up, especially when you're trying to expand the repertoire of picky little palates. In lieu of turkey or ham this holiday, consider adding a few new mouth-watering dishes to the family dinner table.
Jason Takemura, chef and co-owner of Bamboo Catering, and dad of two, loves traditional dishes, but when he was asked to deliver alternative options this holiday he took the family-style approach. He thought of dishes his family loves to eat. Since Saige loves to dip her food in sauces, he provided a few dipping-sauce recipes to encourage little ones to sample new protein options. Who doesn't love bacon and sweet, tangy miso? Both are favorites in the Takemura home, so he combined them and transformed the not-so-kid-appealing Brussels sprouts into a mouth-watering, sinfully delicious vegetable side dish.
Main Dish #1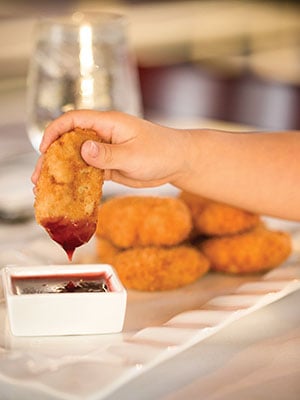 Turkey Nuggets
INGREDIENTS:
1 pound boneless turkey leg meat or
1 package ground turkey
1 cup buttermilk
1 teaspoon Worcestershire sauce
2 teaspoons kosher salt
¼ teaspoon black pepper
2 tablespoons paprika
1 cup flour
3 eggs, beaten
1 ½ cups panko, ground fine
INSTRUCTIONS:
Soak turkey meat in buttermilk for four to six hours.
Rinse under cold water and pat dry.
Cut turkey into one-inch pieces and place in a food processor. Pulse until ground consistency. Using the leg meat and also soaking it in buttermilk will add flavor and juiciness.
Season meat with salt, pepper and worcestershire sauce and shape into nugget-size portions.
Set up a breading station with flour, egg wash and panko. Lightly dredge the nuggets in the flour, dust off excess then dip into the egg wash, followed by the panko.
In a 350-degree fryer, fry the nuggets until completely cooked through.
TIP
Don't have leftover turkey or time to grind it? Skip the first two steps and substitute with ground turkey.
Cranberry Sweet & Sour Sauce
INGREDIENTS:
½ cup brown sugar
1 ½ cups reserved homemade cranberry sauce
½ cup plus 2 tablespoons apple cider vinegar
3 tablespoons shoyu
1 ½ cups pineapple juice
Salt and pepper
Sauce thickener: 2 table-spoons cornstarch mixed with 3 tablespoons of wate
INSTRUCTIONS:
Simmer all the ingredients, except for the sauce thickener, for 10 minutes.
Whisk in thickener and return to a simmer for two minutes.
Main Dish #2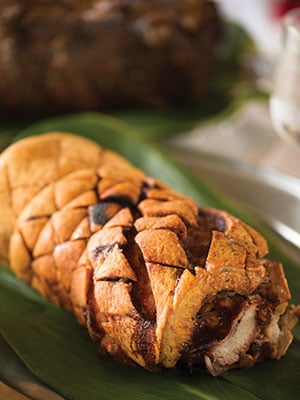 Porchetta
INGREDIENTS:
Five-pound pork belly with skin on
Two- to three-pound pork tenderloin
Salt and pepper
Zest of one orange
5 sprigs of rosemary, stems removed, finely chopped
1 bunch parsley
15 cloves of garlic
¼ cup olive oil
INSTRUCTIONS:
Score the skin on the belly. Be careful not to cut into the meat. Place the belly skin side down.
In a food processor, puree orange zest, rosemary, parsley, garlic and olive oil.
Liberally season with the puree, salt and pepper.
Place the tenderloin on the short side of the belly and roll it. Tie the roast together.
Place in the refrigerator overnight to dry out the skin.
Remove from the refrigerator one hour before cooking. Preheat oven to 350 degrees.
Roast for one and a half to two hours, or until internal temperature is 155 degrees.
Remove and let it rest for 20 minutes.
Main Dish #3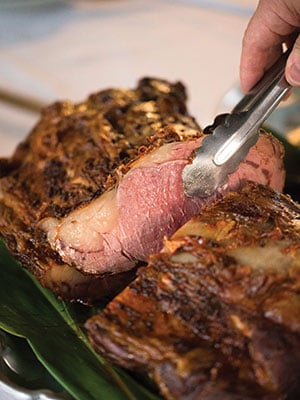 Roasted Garlic and Herb-Crusted Prime Rib
INGREDIENTS:
15-pound boneless prime rib roast
½ cup kosher salt
3 tablespoons black pepper
2 tablespoons paprika
¼ cup Hawaiian salt
2 heads of garlic, roasted
2 tablespoons Worcestershire sauce
1 tablespoon Dijon mustard
5 sprigs of rosemary, stems removed, chopped
INSTRUCTIONS:
Preheat oven to 500 degrees.
Combine kosher salt, black pepper and paprika, then heavily season the rib roast.
In a roasting pan, cook for 20 minutes. Do not open the oven. Then, turn the temperature down to 300 degrees and roast slowly for two hours.
Puree the roasted garlic cloves, worcestershire, Dijon and rosemary.
When the roast's internal temperature is 110 degrees, brush the top and sides with the garlic puree.
Turn the heat up to 350 degrees to caramelize the crust and cook to desired doneness.
Let the roast rest for half an hour.
Side Dish #1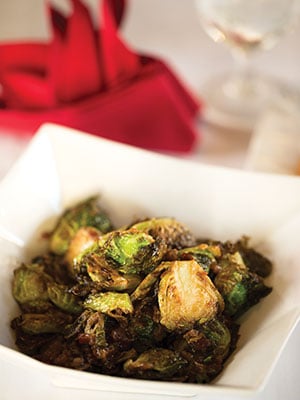 Caramelized Miso- and Bacon- Glazed Brussels Sprouts
INGREDIENTS:
15 Brussels sprouts, cut in half
3 to 4 tablespoons of Miso sauce (recipe below)
5 slices of bacon, chopped very fine
MISO SAUCE INGREDIENTS:
½ cup mirin
1 ½ cups sugar
½ cup sake
¾ pound white miso
INSTRUCTIONS:
Combine sake, mirin and sugar. Burn off alcohol by bringing mixture to a boil. Be careful, as sake may flame if using an open fire.
Let mixture cool, then whisk in the miso.
On medium heat, sauté the bacon until just about crisp.
Remove all except one tablespoon of the bacon fat. Put on the side to use later.
Add the miso sauce and cook until bubbly and caramelized. Be careful not to burn.
In a 350-degree fryer, deep-fry the Brussels sprouts until light golden brown. Be careful, as it may spatter.
Remove from fryer, briefly drain oil and immediately add to the bacon-miso mixture.
Toss until well and evenly coated. Serve immediately.
Side Dish #2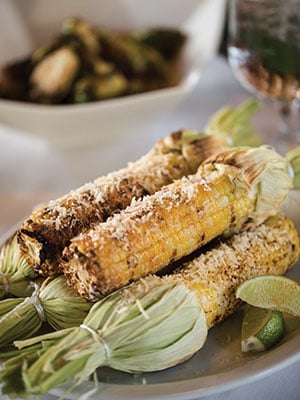 Grilled Corn with Crema, Lime and Parmesan Cheese
INGREDIENTS:
5 ears of corn with husks on
5 tablespoons mayonnaise
5 tablespoons sour cream
1 lime cut into 8 wedges
5 tablespoons grated parmesan
1 teaspoon garlic powder
1 teaspoon sugar
1 teaspoon table salt
¼ teaspoon white pepper
½ teaspoon chili powder
INSTRUCTIONS:
Peel back cornhusks and tie with butchers twine. This will create a handle with which to eat the corn.
In a mixing bowl, mix together the garlic powder, sugar, salt, pepper and chili powder. Set aside.
In another bowl, mix sour cream and mayonnaise together. Set aside.
Over an open flame on an outdoor grill, slowly grill the corn. Be sure to keep the "handles" off the flame to prevent burning.
Turn every couple of minutes to cook evenly.
When the corn is cooked and grilled all around, immediately lather with creamy mixture.
Season well with seasoning mixture, followed by the Parmesan cheese.
Serve immediately. Squeeze lime to your liking just before eating.
DIPPING SAUCES: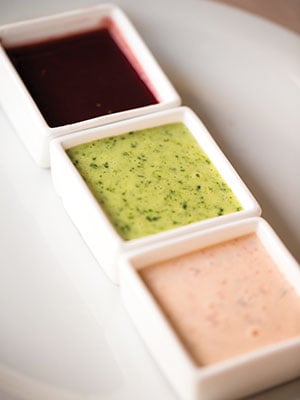 Chipotle Buttermilk Sauce
INGREDIENTS:
2 cups buttermilk dressing
1 to 2 chipotle peppers (canned, in adobo sauce)
INSTRUCTIONS:
Blend together. Be careful, as the chipotles will give the sauce a little spiciness.
Cheesy Broccoli Sauce
INGREDIENTS:
1 tablespoon butter
1 tablespoon flour
1 cup milk
1 cup Velveeta cheese, grated
Pinch of salt
Pinch of white pepper
3 to 4 broccoli florets
INSTRUCTIONS:
In a pot of salted boiling water, cook broccoli for three to five minutes, until soft.
Rinse under cold water to stop the cooking process. Drain and set aside.
In a heavy-bottomed saucepan, melt butter over medium heat. Stir in flour and cook for two to three minutes.
Slowly whisk in milk until smooth, with no clumps. Simmer for three to four minutes.
Remove from heat and whisk in cheese, then season with salt and white pepper.
In a blender, carefully blend cheese sauce with broccoli. This will make the sauce bright green and fun for the kids.