Recipe: Peter Merriman's Boeuf Bourguignon Plus Cooking Tips for Local Beef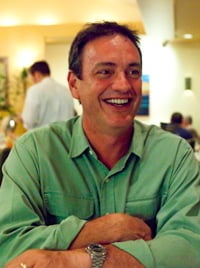 At the end of our Farm to Table article in the July issue of HONOLULU Magazine, we promised you the complete recipe for Peter Merriman's boeuf bourguignon, which is of course, simply the French name for beef and red wine stew.
Merriman is a long-time proponent of local ingredients, but if we are going to have locally sourced, grass-fed beef, we are going to have to learn how to cook it. And if we want to have sustainable ag, we are going to have to learn to cook with the complete animal.
"I really like Maui Cattle Co. steaks," says Merriman. "But a cow isn't all steaks. Some of my favorite cuts of local grass-fed beef are the less expensive ones. Just make sure to braise them in something with a little acid in it. The wine in this recipe does the trick, and you can drink the leftover wine."
Merriman has been cooking local beef for more than 20 years. Following the recipe, you'll find his tips for getting the best out of your grass-fed beef.
Peter Merriman's Hawaii Range-Fed Beef and Wine Stew (aka Boeuf Bourguignon)
2 ½ pounds Hawaii grass-fed beef chuck
2 tablespoons Hawaiian salt
1 tablespoon whole black peppercorns
4 sprigs fresh rosemary
4 sprigs plus 2 tablespoons coarsely chopped fresh thyme
4 sprigs Italian parsley
1 pound (about 2) yellow onion, chopped
½ cup vegetable oil
2 tablespoons all purpose flour
2 cups red wine
1 cup chicken broth
1 cup water
3 cloves garlic, peeled and sliced
6 button mushrooms, quartered
½ cup red wine (Shiraz or Pinot Noir)

Optional Ingredients (These will make it more like traditional beef stew)
2 carrots, peeled, sliced and blanched
2 white potatoes (not Russet), diced and blanched
½ cup green beans, blanched
Directions
Cut the beef into pieces, about 2" x 1" x 1". In a covered plastic container, mix together the salt, peppercorns, rosemary, thyme, parsley and onion. Add the beef and mix well. Cover and refrigerate overnight.
The next day, remove the beef from the refrigerator and bring to room temperature. Preheat oven to 325°F.
Place braising pan over high heat. When the pan is hot, add a tablespoon of oil. Add the beef pieces to the pan, saving the herbs and onions. Sear the beef pieces until dark brown on all sides. Add the onions. Reduce the heat to medium high and cook until the onions are limp. Remove beef and onions from the pan.
Add the rest of the oil and flour, stirring together. Continue to stir and cook the mixture until brown. Add the beef, onions, peppercorns, rosemary and thyme. Add the wine, broth, water and garlic and bring to a boil. Cover and place the pan in the oven for 90 minutes to two hours.
Remove the pan from oven and test for doneness; beef should be tender and soft. Adjust seasonings to taste. Place the pan over medium heat and add the mushrooms. Cook until the mushrooms are tender. Add parsley and the optional ingredients, if using. Heat through.
Serve stew with rice, mashed potatoes or noodles.
Peter Merriman's Tips for Cooking Grass-Fed Beef
There's less fat in grass-fed beef so it cooks faster; adjust cooking times for your favorite recipes.
Stir frying is a great technique for less fatty meat; fast cooking over high heat means there's no time for the meat to dry out.
Cook grass-fed beef like you would wild game. Braising – cooking over a long period of time in liquid – is the best technique for flavor and tenderness. For a braising liquid, use a red wine with lots of fruit flavor. If you're using red wine, add a splash of good quality red wine vinegar at the end of the cooking time to add complexity to the dish and to refresh the palate.
With grass-fed steaks, think London broil: cook quickly over high heat and slice thinly on an angle. Never cook steaks beyond medium rare.
Overnight seasoning and marinades blend the flavors and help tenderize grass-fed meat.
When you're making a stew, use way more onion than you think you would ever need. The natural sugars from the cooked onion are great with grass-fed beef.
Pair grass-fed beef dishes with wines that have a lot of fruit. Shiraz, Cabernet Sauvignon and Pinot Noir are all good accompaniments.