Real estate rebates for service members in July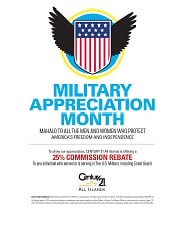 Military members looking to buy or sell a home can get a discount from Century 21 in July.
Jim Wright, president of Century 21 All Islands, announced that anyone who has served, or is currently serving, in the U.S. military is eligible for a 25 percent rebate on commission. The offer is open to both buyers and sellers from any branch of the military, including the U.S. Coast Guard.
"Hawaii and the U.S. military have a rich history together and there has always been a special place for our service members in the Aloha State," Wright says.
A former serviceman himself, Wright adds, "I understand the time frame military families have to deal with when buying or selling a home. Our company has agents who are experts in working with military families."
If the deal has piqued your interest, three of Century 21's Oahu properties have upcoming open houses:
>> A three-bedroom home in Ewa Beach's Westloch Fairways for $550,000, with an open house Sunday from 2 to 5 p.m. For details, see MLS 1305629.
>> A five-bedroom home in Mililani for $760,000, with an open house on June 30 from 2 to 5 p.m. For details, see MLS 1210577.
>> A three-bedroom beachfront home in Kailua for $2.3 million, with an open house on July 11 from 9:30 to 11:30 a.m. For details, see MLS 201326297.
For buyers to receive the rebate, the property must go into escrow by August 31. For sellers, the property must be sold within a one-year listing contract period. The offer is only extended by participating Century 21 agents.
"This campaign is our way of showing our appreciation and saying 'mahalo' to all the men and women who protect this country's freedom and independence," Wright said.
For more details, call (808) 564-5121 or email C21AllIslands@HawaiiMoves.com.