Ready, Set, Volunteer!
How can you get your kids ready to give back? As we prepare for our fourth HONOLULU Family Volunteer Day, here is what we've learned.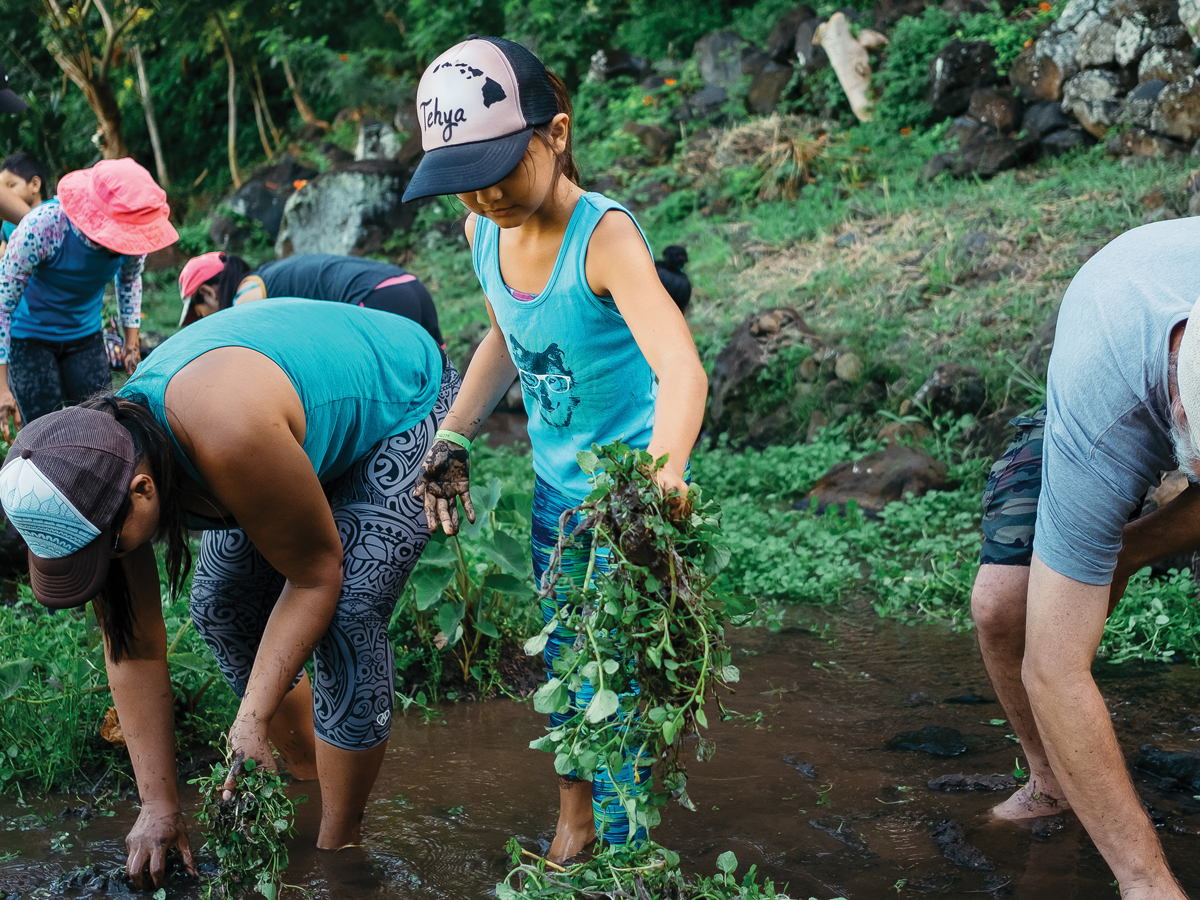 Photo: Aaron K. Yoshino
My daughter learned the word "mine" at the age of 2. Since then, she has used it extensively, usually yelling it at the top of her lungs while yanking a toy away from her sister. It's never too early to teach kids how to think about "us" instead of "me." That's part of the reason we started the HONOLULU Family Volunteer Day in 2016. The first Saturday of every year, we work with nonprofits to create fun, family-friendly volunteer opportunities for young kids and their parents to dig in, clean up, plant and clear their communities.
Our next Volunteer Day is set for the morning of Saturday, Jan. 5. Parents and keiki can pull algae out of Maunalua Bay (likely spotting fish and crabs along the way), clean up Tenney Theatre with the keiki-friendly team from Honolulu Theatre for Youth, wade into a kid-friendly lo'i with the Windward YMCA at Ulupō Heiau or tidy the gardens (and play on a pirate ship) at Keiki and Plow's farm. Every activity is hands-on, and every year we have kids who don't want to stop working.
Sign up by Saturday, Dec. 29, at honolulufamily.com/volunteerday. We suggest registering earlier to ensure a space at your preferred location.
In four years of this event, we've learned a few things about making volunteer work fun and fulfilling for kids. Here are our five tips to get you started:
1. Find an Activity That Suits Your Child.
Does your little one have trouble sitting still? Maunalua Bay has a big beach to run around on. Is your child a little shy? The group at Keiki and Plow is limited to fewer than 20 people. Outgoing keiki may like meeting dozens of people at the lo'i or getting the chance to stand on the HTY stage.
2. Bring a Bestie.
Anything is more fun if kids can bring a friend. For our Volunteer Day, each child will need to be accompanied by an adult. But, one mom or dad can bring two children if the kids are at least 8 years old. So, tell your keiki to feel free to invite a friend.
3. Be Clear About What You Will Be Doing.
Talk before you go so kids know what to expect. Dress to get messy. Don't forget sunscreen and water.
4. Put Down Your Phone.
Parents' interaction can make the difference between a forgettable hour or a family memory. Work with your child, taking a little extra time to squish in the mud, feel the slippery algae or guess which vegetables grow on which plants at the farm.
5. Explain the Impact.
Little kids have big hearts. Telling them how they are making a difference can give them a sense of importance. Make sure to point out the worksite every time you pass, so they can see the results of their hard work weeks or even months later.