Randy Ching Joins Chef Mavro, currently Honolulu's home of truffles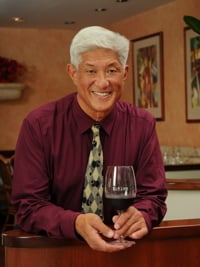 We dropped by Chef Mavro for dinner the other evening, partly to congratulate Mavro on once again being named one of the 40 Top Restaurants in the U.S. by Gayot Guide.
We were pleased to find Randy Ching in the front of the house, as the new restaurant director and sommelier. You may well know Ching from his years at Mauna Lani and the Halekulani, where he directed the wine program.
A year or so ago, Ching injured his shoulder (no more surfing for him). He turned the recuperation period into a year off, discovering what people did when they didn't work all the time.
One recent Wednesday, he answered a Craig's List ad, ineptly, forgetting his name and resume. Mavro, who worked with Ching at Halekulani, found him on Thursday, and Ching went to work Friday.
He promises more focus and innovation in Mavro's legendary wine pairing menu. "Great wines, but perhaps wines you've never tasted before."
He's got a great menu to pair with. The food at Chef Mavro continues to astound us, especially now that Mavro has a red basket full of Perigord truffles (left) to play with in the kitchen.
NonstopHonolulu's food maven, Mari Taketa, asked me the other night what I'd eat for my last meal. I'd want Mavro's Peterson's Farm egg, first suffused with truffles, then poached and served with a potato mousseline, Serrano ham and chervil. Shaved truffles on top, of course.
It's warm, soft, not too gooey. It's got fabulous mouth feel, umami galore, and it hits every flavor cluster in the repertoire. (That's it at the right. The presentation's actually nicer, but I tilted the plate to take the picture and everything slid. Won't do that again.)
There are other delights on Mavro's current six-course menu: Kealohe lobster with a chorizo puff, Wagyu beef medallions with pancetta Brussells sprouts and celery root puree, a mousse of Brie with housemade fig marmelade and Portuguese sweet bread.
But on the sumptuous dessert platter—a truffle ice cream with white chocolate sauce and shaved truffles. Some folks I've told about this, got all Truffle Ice Cream???!
But, really, Mavro (left) would never serve you anything that wasn't good to eat. It's perfect sweet-savory dessert with a little hint of earthiness that keeps it from cloying. I'll have it at my last meal as well.
Chef Mavro, 1969 S. King St., (808) 944-4714, www.chefmavro.com