Raising Kids in the "Apple Generation"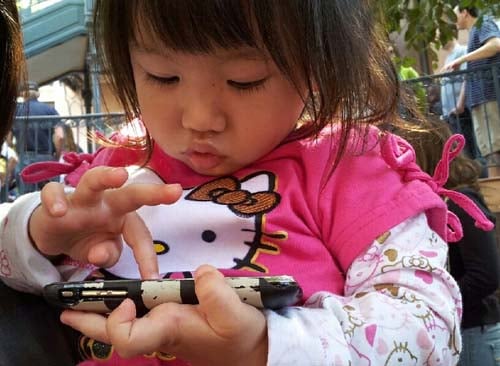 My name is Nathan and I allow my kids to play with my iPhone, sometimes excessively, depending upon on the situation (restaurants, for example), but mostly in moderation. I try to keep to educational, mind-stimulating games, but, I have to admit, the iToot app (with inappropriate noises) is amazing and has been known to keep my children occupied much too long. Does this make me a bad parent? I hope not.
In all seriousness, it's quite mind-blowing when you stop to think about the digital world we live in — frictionless online commerce, thousands of songs streaming live to mobile devices, magazines that come to life on an iPad, Internet connectivity everywhere, the ability to arm and disarm home alarms from across the country, so on and so forth.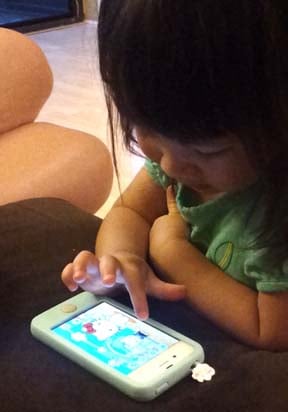 It's even more amazing to watch our kids adapt to this new reality. Like many of our friends' kids, Ensen and Avery were both iPhone whizzes by the time they were 2, swiping, pressing and dragging their way through interactive games, listening to their favorite music, and answering phone calls whether we liked it or not. It is both impressive and frightening to see just how intuitive youngsters are with technology.
The great debate remains whether all the digital "stuff" is aiding or hindering our children's ability to learn and grow both mentally and emotionally. With the overwhelming scientific and philosophical information out there, one could build a case in favor for or against it.
Personally, the jury is out on whether technology is really making our lives better or worse. Kelly and I are tackling the issue head on as parents. If I were a betting man, I would put my money on "better." Our approach is similar to most things in life—everything in moderation.
My 2-year-old, Avery, could sit around all day and play her puzzle, number and alphabet games on the iPhone. She loves them and we can actually see her fine-motor and oral skills developing as she plays with apps like Tozzle, Dora's Skywriting ABCs, First Words Sampler, and Giraffe's PreSchool Playground. Identifying shapes, colors and animals are no problem, and her knowledge of letters and numbers is increasing every day. But we only let her play on the iPhone for short periods of time before encouraging creative play, crafts or other physical activity around the house.
With two kids growing up in the "Apple Generation," how do I feel this will affect their development? Only time will tell. We haven't experienced anything unusual thus far, so have no plans to change our current routine. I do, however, feel that a new Apple iPad would be better on our children's eyes in the long run. I'm not just suggesting that because I want one (wink, wink).
Nathan Kam is a Honolulu public-relations executive, husband and a proud daddy of two incredible kids, Ensen (5) and Avery (2), who enjoys cooking, gardening, traveling, blogging and golfing. You can reach him via email, Twitter, Facebook, LinkedIn or via his personal Kam Family Blog.