Raising Keiki in COVID-19: Four Generations Live Under One Roof and I Am the Great-Grandmother
Masks, mail carriers and morning meetings keep us together during the pandemic.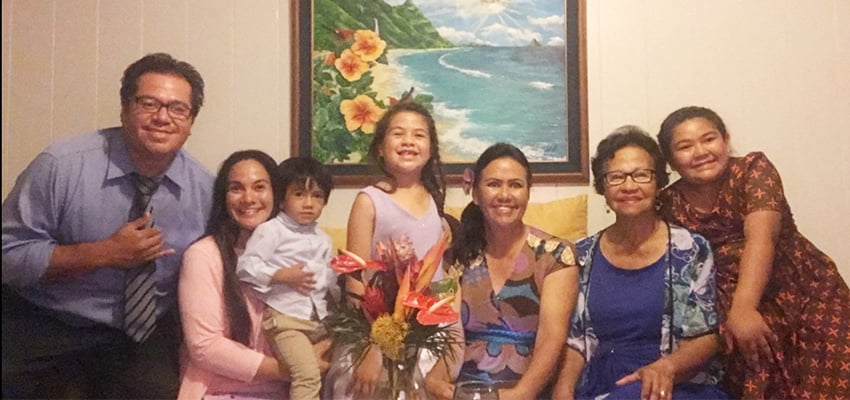 Photo: Courtesy of Faye Lee
Seven members of this close-knit family live together during the coronavirus pandemic.
Raising Keiki in COVID-19 is a series of personal reflections of parents living on Oʻahu during the coronavirus pandemic. Some articles were written by the parent, while others talked story with HONOLULU Family.
When I was younger, we used to hear of tidal waves in Hawaiʻi, but I don't recall anything in my life that was as big as the coronavirus. I am 75.
The coronavirus is very—I don't want to say unusual—but everything about the pandemic is different and challenging.
Seven of us live together in our home. There is myself, my daughter, my granddaughter and her husband and their three children. My son passed away this year. It was sudden, and it was not related to the coronavirus.
I'm retired. I was a nurse aide who worked the night shift.
Now with COVID-19, I'm home all the time. I have diabetes. I am always reminding my family to wash their hands, especially my great-grandchildren. In a way, this makes us more aware of cleanliness and watchful of each other.
My granddaughter worked from home for a few weeks but she went back to work after taking leave. She arranged with her company to work on days that her husband is off as a postal carrier so one of them can watch their children. Their schools are closed, so they are learning at home.
My daughter, like my grandson-in-law, is a mail carrier. They have been working the whole time, wearing masks. My daughter is very sociable. I asked her, "Do you have a lot of contact with the customers?" She said, "Not really. We deliver here and there to kūpuna, to old folks' homes where we used to talk story. Not anymore."
I felt a little safer when she said that. I was telling them a couple of days ago—it goes through your mind—"You know, that would be terrible if one of us got the COVID." More than likely, we're all going to get it if that happens.
We talk about that reality.
In our family, we have close contact. I have my own bedroom. I have my privacy, and then my daughter lives in the back. We're all connected through the family room. It gets a little nerve-racking being close together. And that is when I say, "OK, I know when I need to take my leave."
During the quarantine, I am organizing the home. I've got too many things. It's amazing what you accumulate. My husband died 16 years ago. I still have things of his that we couldn't sell before. And then now, with my son dying, he was a collector. Most of the things that were his are in our garage.
We don't let the coronavirus situation get us down. We try not to complain that we can't go out, and it's so boring. We try to be positive. Even in this time.
Good things will come out of it.
We start every morning with a family worship on Zoom, through our congregation. I'm not really good with computers. But I'm learning the technology. Faith and hope keep our family together, helping us with every aspect of our lives. We try as much as possible to be positive and show each other more love, understanding and patience.
I have to be patient.