Raising Keiki in COVID-19: My Daughter Wears Superhero Costumes in Free Meal Lines
As a former victim of domestic violence, I'm teaching my daughter to stay strong in the pandemic.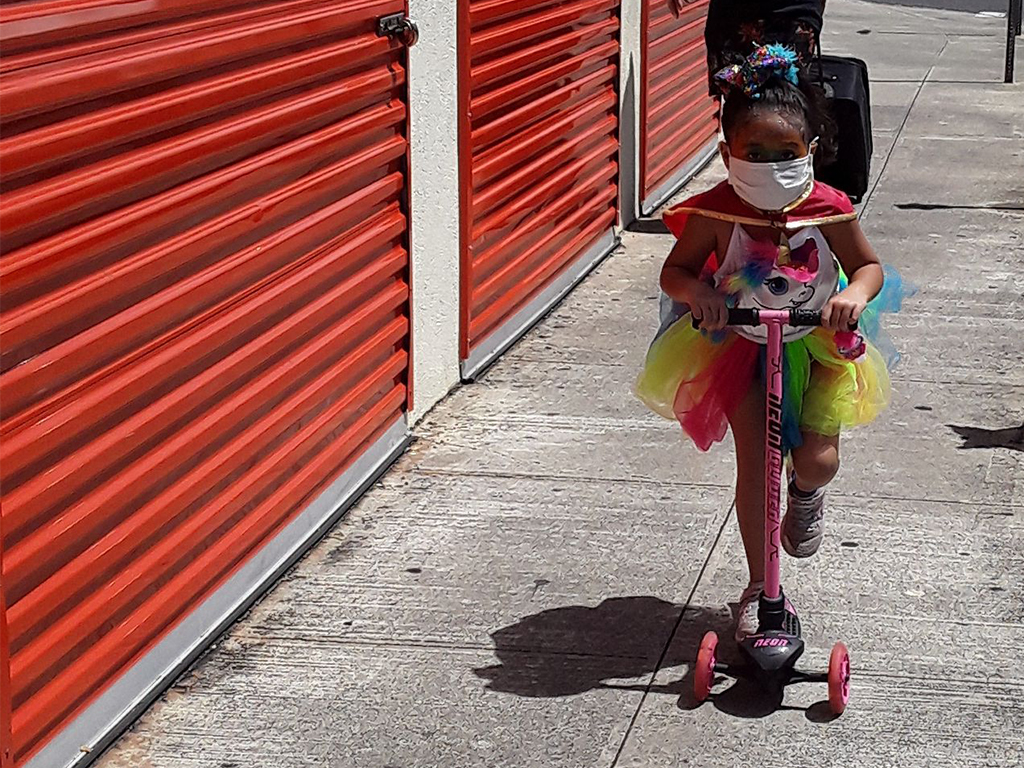 Photo: Mavis
Raising Keiki in COVID-19 is a series of personal reflections of parents living on Oʻahu during the coronavirus pandemic. Some articles were written by the parent, while others talked story with HONOLULU Family.
I'm a single mom and my daughter is 5. When she was younger, I was in a domestic violence shelter because my ex-husband was abusive and chose drugs over everything else.
A few of us moms from the shelter still keep in touch. Coming from domestic violence, I want people to know that if you suspect a neighbor is in trouble, if you think something is going on next door, please help.
There's a big movement to help victims now, like with the Domestic Violence Action Center's anonymous texting service [605-956-5680]. You can make anonymous calls to the center [808-531-3771]. Abusers are not going to let their victims have a phone, so neighbors may need to call for them.
We may not see these victims of abuse, but they do come out of their homes to eat. That's why it's good that the state Department of Education has free Grab-N-Go meals for kids. The Grab-N-Go service is great for struggling families. From Mondays to Fridays, my daughter and I walk to the nearby public school at 7 a.m. and 11:30 a.m. to get her breakfast and lunch. We get there early because they can run out of food fast. The last time I talked to the people there, they counted 98 cars before lunch.
Before we leave the apartment, she likes to dress up in costumes. She's been a rainbow chick, a cat, a fairy, a dog, a fox—she just wants to have fun, and she makes me and everyone around her happy. The people who hand out the Grab-N-Go meals at the school know her. They call her "The COVID Phantom!"
Photo: Courtesy of Mavis
Sometimes, whole families of kids come. It's really cute to see. One group has an older sibling, a 1-year-old in a stroller, and five more kids, maybe they're cousins or neighbors. They walk together to get their food and then walk home together.
The staff has its social distancing down. We tell them how many kids meals we want. They put the plates on the table and walk away or, for families that drive, the staff passes the food through the car window from at least 6 feet away. We can't stay around after we pick up the food. We have to go home, or we sit on the side of the road if she's hungry and wants to eat right away.
The food is good. It meets heart-healthy requirements from the Food and Drug Administration. For example, lunch service is on two different to-go plates. One plate has the cold food with fruits and vegetables, like edamame with carrot sticks and broccoli with ranch dressing. Then there is a hot food plate. Today, it had a kālua pork sandwich on a brown bun and a carton of milk.
After she eats breakfast, we walk back to the apartment, and she starts her distance learning worksheets and Webex meetings with her classmates and teacher. Her social life is her school because she's an only child. When I found out her school closed, I set up our living room like her classroom. She has a daily schedule on the wall, a clock that she can read, addition and subtraction tables, and the Pledge of Allegiance on the wall.
While she's studying, I'm in my home office in the bedroom.
Everything is wired in the bedroom—the mouse is wired, the laptop doesn't have a battery, the speakers are wired, the laptop is wired. I sit in all these wires, working, and check in on her in the next room.
For my job, I supervise essential workers who look after mental health patients in group home settings. I track patients' charts and make sure they take their medicines and that they're safe. My boss is really supportive of families because of the type of work we do in the community. But I get calls at all times of the day! In the past five weeks, I've had four mental health patients go to the hospital for worsening symptoms.
It's not easy being a single mom during a pandemic. During the coronavirus lockdown, all my single mom friends and I took our kids to the grocery stores when we needed to buy food, because there was no child care for that. We put masks on our children and took them shopping.
One mom that I know doesn't have access to electronics. Her children are not doing any online learning. They just play.
Even before the pandemic, society judged single mothers heavily. We're just trying to get our kids up in the morning and get them to brush their teeth, too.
There is so much anxiety about the pandemic, like how long it will last and what else to expect. It's one thing to have a 72-hour kit or a 14-day supply of food. But we would need to take precautionary measures and have food available for our kids for at least 12 months.
I worry about these things. I also have a medical condition, and I always worry about who will care for my daughter if I get sick and die.
I've got to stay in a strong frame of mind to survive.
---
Help For Victims of Domestic Violence:
Domestic Violence Action Center. Text message (605) 956-5680. Call (808) 531-3771 or toll-free 1-800-690-6200, domesticviolenceactioncenter.org
Parents and Children Together-Domestic Violence Prevention & Intervention. (808) 832-0855. Or call the 'Ōhi'a domestic violence shelter access line (808) 526-2200, fpc@pacthawaii.org, pacthawaii.org
Child & Family Service. (808) 841-0822 or (808) 681-3500, childandfamilyservice.org
Honolulu and Leeward shelters for victims of domestic violence. (808) 841-0822
Windward Shelter for victims of domestic violence. (808) 528-0606
Restraining Orders. Adult Services Branch of Family Court (family & household members), (808) 538-5959. District Court-Civil Division (non-related, non-household parties), (808) 538-5151
Call 911 if you or a victim is in immediate danger.