Pumpkin Pie Muffins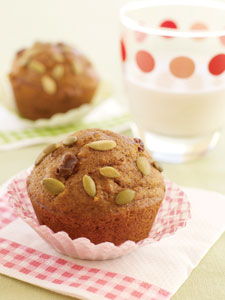 Pumpkin Pie Muffins
For a nutritious breakfast or a snack, these muffins are as yummy as they are healthy.
Ingredients:
1 c (Cup) all-purpose flour
0 c (Cup) whole-wheat pastry flour
1 c (Cup) granulated sugar
1 t (Teaspoon) baking soda
1 t (Teaspoon) cinnamon
0 t (Teaspoon) salt
0 t (Teaspoon) ground nutmeg
0 t (Teaspoon) ground cloves
0 c (Cup) raisins
2 (Unit) large eggs, lightly beaten
1 c (Cup) canned pumpkin puree
0 c (Cup) canola oil
Instructions:
1. Preheat oven to 350°F. Spray cups of a 12-cup muffin pan with nonstick spray.
2. Sift flours, sugar, baking soda, cinnamon, salt, nutmeg and cloves into a large bowl.
3. Stir in raisins. Beat eggs, pumpkin puree, oil and water together in another bowl. Add pumpkin mixture to flour mixture and stir until just blended.
4. Spoon batter into muffin cups, filling each about two-thirds full. Sprinkle with pumpkin seeds.
5. Bake until a toothpick inserted into a muffin comes out clean, about 20 minutes. Cool in pan on a rack for 10 minutes; remove muffins from pan and serve warm, or cool completely on rack.
Preptime: 15
Source: Family Features
Cooktime: 20 minutes