Promised Pleasures: Upcoming Dinners and Wine Events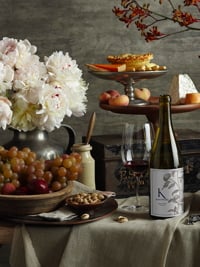 July 23: Dinner with Knez Wines at Vino
This Anderson Valley winery is one of master sommelier Chuck Furuya's latest finds, pinot noir and chardonnay from two hillside wine vineyards. Owner Peter Knez and winemaker Anthony Filiberti will be coming with their two latest releases. Vino chef Keith Endo will cook up housemade caramelized fennel agnolotti with crispy shrimp and sage-marinated crispy pork shoulder with couscous, plus Kula strawberry tiramisu.
6 p.m., $56, by reservation only, 533-4476 or email.
July 28: Munch Cocktail Dinner at Apartment 3
Fresh and light four-course Southern Italian dinner, each course matched with custom cocktails from cocktail wizard Joey Gottesman.
6:30 p.m., $45 per person plus tax and 20 percent auto-gratuity. Limited to 30 seats. 955.9300 or email
Aug. 3: Farmers' Dinner at Alan Wong's
This is the official launch of Chef Alan Wong's Adopt-a-Beehive program, designed to support efforts to preserve honey bees in the Islands. The evening will feature honey harvested from Wong's adopted hive (left), and a visit from Dr. Lorna Tsutsumi, who teaches beekeeping at UH Hilo. Side by side tasting of local vs. imported butters, and imported v. Kauai shrimp. Plus a four-course prix fixe dinner.
5-10 p.m., $80, $110 with wines, 949-2526, www.alanwongs.com
Aug 4: Halleck Vineyard Winner Dinner at 3660 On The Rise
Ross Halleck himself will be in town to introduce his award-winning Sonoma wines. Dinner sounds extravagant: oyster on the half shell with yuzu tobiko caviar, foie gras scented with Madras curry, breast of duck with red rice, slow-braised pork belly with mushroom ragout, medallion of lamb and chocolate truffle torte with raspberry coulis.
6:30 p.m., $85 includes four wines, reservations required, 737-1177 by July 31.

Aug 10: Mi Sueno Tasting at Du Vin
Be among the first to taste four small-lot, handcrafted wines from one of Napa's newest boutique wineries, Mi Sueno, along with a whole array of treats from Du Vin chef James Rosenberry , including Alaskan King Crab, with truffle béarnaise, Basque lamb bruschette with gold tomato relish and Penn Cove mussels casino.
6 p.m., limited to 30 guests, $50 plus tax and gratuity, 545-1155.
Aug 19 to 21: Made in Hawaii Festival at the Blaisdell
Amid the hoopla, jewelry, crafts, apparel and entertainment at the annual Made in Hawaii festival will be cooking demonstrations from award-winning chefs like Jason Takemura of Hukilau and Pagoda, Colin Hazama of Kai Market, Johan Svensson of BLT Steak and Ronnie Nasuti of Tiki's. Cooking demonstrations will be coordinated by HONOLULU Magazine and emceed by the ever energetic Derek Kurisu (see Kurisu's TV appearance here).
Friday and Saturday, Aug. 19, 10 a.m. to 9 p.m.; Sunday, Aug. 21, 10 a.m. to 5 p.m., $4, with $1-off coupons available at First Hawaiian Bank in mid-August. Children 6 and under free. 533-1292 or madeinhawaiifestival.com.