How To Prevent Medical Emergencies in Honolulu
Photography by Karen DB Photography
Hawaii's warm weather and sunshine make for perfect outdoor conditions for kids to frolick in the surf or pool, run around the yard and bike or scooter through the neighborhood with friends and family. Accidents happen, but with a little education and prevention, parents can escape many unwelcomed trips to the emergency room.
The desire to protect our children from harm never ends. From the day they're born, and even after children become adults, parents strive to keep them safe. While accidents are inevitable, there are many medical emergencies that can be avoided.
"The best way to prevent a trip to the hospital is raising your children with an emphasis on safety, being prepared and knowing some simple healthcare tips," says Dr. Brian Tanabe, pediatric and adolescent medicine specialist at Straub Family Health Center.
Tanabe, a father himself, says that some of the most common reasons children end up in the emergency room or hospital include fever, abdominal pain, headache, chest pain, shortness of breath, earaches, sprains and fractures, lacerations and contusions, colds, skin infections and allergic reactions.
"Simple home healthcare will likely keep most children out of the ER," he says. "It is surprising how far a little home care and knowledge will go to stop acute problems early and prevent secondary complications."
To help Hawaii's parents get started, we've put together a guide filled with helpful tips, expert advice and real-life experiences, including many "aha!" moments shared by other HONOLULU Family readers.
Childproofing 101
One of the first steps parents can take is to childproof their home. Some of the most innocent-looking home furnishings can be potential disasters for curious children.
"We've learned never to underestimate the curiosity of a child," says HONOLULU Family reader Randy Duldulao. "Children are like little scientists. They want to touch, feel, taste, smell and eat the world around them, so it is our job to make sure it is safe for them to explore."
Randy and his wife, Nicole, have babyproofed every inch of their house for their boys, a 4-year-old and 5-month-old twins.
"We put locks on drawers with cleaning supplies, put safety handles on the doors so they can't venture outside by themselves and keep all small objects out of reach," he says. "We didn't want to take any chances."
Parents who are new at childproofing their homes can seek help at many local retailers, such as City Mill, Home Depot, Baby Emporium, etc., that offer products to help deter accidents, from multipurpose appliance locks for refrigerators, microwaves, dishwashers and ovens, to doorknob and outlet covers, cord wraps, toilet seat locks and gates.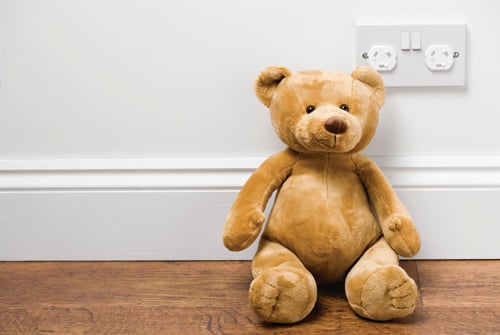 Not Everything Is "Childproof"
Childproof products and devices are simple to install and easy to use, but they are merely deterrents.
"We learned that even though it says 'childproof,' a little child will find a way to somehow open the cap and play with the medicine," says Nicole. "One day, we found our son playing with all the little medicine capsules and freaked out! We took the necessary precautions by calling the Poison Control Center and taking him to the ER. Lesson learned: Don't leave childproof medicine containers laying around!"
Proper Place for Pets and Plants
Another way to prevent medical emergencies in the house is by keeping family pets away from infants and young children. A portable fence is a great tool to keep pets out of the baby's room.
No matter how friendly your family pet may be, if a child tugs on the animal's fur or tail, it can cause the animal to react and bite the child's hand or face. Parents should teach their children not to bother the family's pets when the animal is eating and, more importantly, not to approach or play with stray dogs or cats no matter how friendly they appear to be. Supervised playtime with the family's pet is another way to prevent a possible medical emergency for the child, as well as the animal.
"Our son, Josiah, only plays with our dog, Lucky, when I'm outside, because I want to make sure no one gets hurt," says Randy.
Besides pets, plant poisons, such as the milky juices from the crown flower and the nectar from oleander flowers, can also pose dangers to children. Most toddlers explore the world around them by putting things in their mouth, which can lead to a possible emergency.
"It really depends on the plant," says Sarah Bruhn, RN, CSPI, who works at the Poison Control Center as the call center nurse supervisor. "A lot of plants out there are irritating, but not necessarily toxic. They can have a sap to them, which sometimes becomes a skin irritant or they'll sting the mouth."
Parents should learn the names and the types of plants growing in their own yard.
"You can't always control what happens when you go to the park or to a friend's house, but it's always helpful to know what's growing in your own yard," she says. "It'll make it easier for us to determine if it's a serious problem and help you find out what reactions to expect."
First, try to remain calm, Bruhn says.
When dealing with poisonings, parents should never induce vomiting, under any circumstances.
"We found it can actually cause the children to aspirate or swallow the vomit into their lungs, which, a lot of times, is worse than the poison itself," says Bruhn.
Even though this recommendation has changed over time, Bruhn says they still advise parents to call for assistance during any poisoning accident.
"If your child is awake and talking, wash the child off, give him or her a few sips of water and call us right away," says Bruhn. "You can call us at anytime, whether it's an emergency or not."
Help is available from the Poison Control Center 24 hours a day, seven days a week. There are registered nurses and pharmacists who specialize in poison information and are trained to answer your questions.
"However, if the child is not breathing, is having a seizure or if the parent can see that it's an emergency, then they should immediately call 911," she says.
Besides the plants' leaves and flowers, even the littlest things, which may go unnoticed by an adult, can be a potential hazard to children.
"We found that something as basic as a pebble in a flower pot may pose the greatest medical emergency," says Nicole. "When our very curious toddler began to explore the plants in the house, he managed to get a rock stuck up his nose and was too young to know how to blow it out. Thank God, there was a pair of tweezers near by, otherwise, we would have had to visit our new friends at the ER again."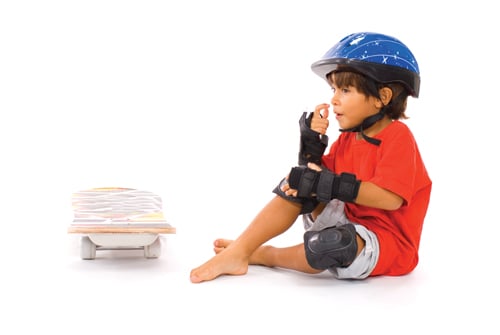 Safety First
We may want to keep our children locked up in the house to protect them from the dangers of the world, but, eventually, they'll grow up and want to play outside. No matter what type of recreational activity your children participate in, make sure they have the proper safety gear.
"Focusing on safety and prevention is still the mainstay of child healthcare," says Tanabe. "For example, using proper sports and recreation equipment, such as helmets, knee and elbow pads, wrist guards for skaters, etc., will prevent most injuries that actually require hospital emergency care. Sprains and fractures often occur from overuse or unsupervised horseplay. Limiting sports activity and good supervision are very important as well."
Something as simple as allowing your child to ride a bike around the neighborhood could potentially turn into a medical emergency if an accident occurs.
"Riders who are 16 years old and younger have to wear a helmet by law," says Atwood Trapnell, a bicycle expert at McCully Bicycle and Sporting Goods. "Helmets should not lean forward or back, but should be one inch above the eyebrows. It should be a snug fit, but it shouldn't feel uncomfortable."
Trapnell also notes that wearing an ill-fitted helmet is better than wearing no helmet at all, but that's not the way parents should look at the situation.
"If your child has a helmet that doesn't fit properly, it's going to move around," he says. "It also might get in the way of seeing, causing the child to crash and get hurt."
In the worst-case scenario, a helmet that doesn't fit may even come off during an accident.
Besides acquiring the right equipment for recreational activities, parents should also take the time to educate their children about the rules.
"If your child plans to ride on the road, they have to learn to ride on the right side of the road and not on the sidewalk," he says. "They also must obey traffic signals and learn how to properly signal turning."
Food Can Be Your Child's Enemy
"As a parent, I've learned that there's a difference between allergy and intolerance," says Cathy Cruz-George, of Ewa Beach. "My daughter had a milk-protein intolerance, which is common with babies and toddlers."
Allergies come in many different forms and have various symptoms, and allergic reactions can also differ from child to child.
"When our daughter, Reecey, was an infant, we discovered that she was allergic to the orange sweet-potato baby food," says Naomi Atabay, of Moanalua. "I was freaking out, but, luckily, it happened during our hospital's regular hours, so I was able to call her doctor."
Food allergies will occur almost immediately or up to an hour after consumption. In less than an hour, Reecey had a rash all over her mouth and broke out in hives.
"Our daughter didn't need anything more than hydrocortisone cream for the hives, but other children aren't so lucky," she says. "Some children can have such a bad allergic reaction they can't breathe and need to get a shot."
Emergency and First Aid Kits
Accidents are a part of growing up, and being prepared does help.
"It's probably not feasible to carry a first aid kit all the time," says Tanabe. "However, if I could choose one medication to carry, it would be Diphenhydramine (antihistamine, e.g., Benadryl) suspension or capsules. This will treat many acute allergic reactions."
He also says that, if your physician recommends having an EpiPen for a history of severe allergic or anaphylactic reactions, it's extremely important to have this on hand 24 hours a day.
"Another absolute must is parents should carry any other prescription medications for asthma and diabetes," says Tanabe.
Most parents will carry necessary items such as bandages, antiseptic and/or antibacterial wipes, and an antibiotic ointment in the diaper bag or purse, but other parents have customized the items they carry to their children's needs.
"Our emergency kit consists of snacks, juice, a few toys, a coloring book, Band-Aids, Neosporin, milk, baby wipes, diapers, burp rags, a change of clothes for all the kids and, most importantly, hand sanitizer," says Nicole. "You'll never know what you may need when you're away from home. So it's always better to be prepared."
Simple Steps to Prevention
Sometimes preventing a trip to the hospital depends on parents changing their lifestyles and bad habits.
"Not smoking has saved me a lot of time, money and headaches, because, when I stopped smoking, I noticed that my kids stopped getting sick as much," says Joy Modesto, of Nanakuli. "My actions had a negative affect on their health. When you start to have kids, it's about being willing to learn and grow as a parent."
The mother of two says that kids are going to run and fall down because they're clumsy, but it's a matter of being there for them.
"Parental supervision is an important priority for me," she says. "Kids will be kids, but it'll only takes a second for an accident to happen. It's important to keep your eye on them, whether they're playing in the backyard or at the beach."
Trial and Error
While some things can be learned from a parenting book or on the Internet, sometimes the best sources are other parents who've been in these situations, and learning from your own experiences.
"Talking to other parents has helped me prevent medical emergencies," says David Modesto, of Nanakuli. "It allows me to figure out if I'm on the right path or not, and find out what other parents have done to protect their kids."
In Aimee Miyahira-Chan's case, she learned that children tend to have higher fevers than adults.
"As a parent, I learned that fevers aren't always something to freak about," says the Pearl City mom. "Ellie always had 102 or 104 fevers. My doctor informed me that 102 to 104 degrees is the optimal temperature at which white blood cells work. So it's actually good for her temperature to be that high, but it did stress me out."
When Ellie had a fever as a baby, Miyahira-Chan rushed her daughter to the ER as a precautionary measure.
"It cost me more than $500 and they only gave her ibuprofen," she says. "It's better to be safe than sorry, but I learned my lesson."
When in doubt, always consult your child's doctor. Fevers can vary in children of different age groups, but if the fever is accompanied by other symptoms, something else could be wrong. It's best to seek professional help.
Trust Your Instincts
Besides talking to other parents and learning through trial and error, it's also important to trust your instincts.
"Nicole and I have learned to always trust our parental instincts," says Randy. "If there are things you think about that may be harmful to your children, try your best to eliminate those dangers. We also learned that you have to always know what all of your children are doing. If your child is quiet for more than one minute, you better check on him or her because he or she might be doing something a little mischievous."
Communication Is Key
Children often watch and copy what adults do. It's important to clearly communicate what your child can and cannot do.
"What may not be dangerous for adults can be for children," says Aaron Kagawa, who is the father of a 4-year-old. "For example, Tyler is not allowed to be near the stove, regardless if it is on or off. We also really learned to be consistent in what we want him to do in regards to his safety. We think that's the most important thing we can do to prevent a serious emergency."
As time goes by, parents also learn valuable lessons about communicating with each other.
"Communication with your significant other is another key to keeping your children safe," says Randy. "As parents, you both have to come to a common strategy on what you feel is the best and safest way to have your children grow up. You also have to stand your ground when you discipline your kids. Sometimes you have to be the bad guy, but, that's okay, because it is for the safety and benefit of your children.
"You may think that you've taken every precaution necessary to prevent a medical emergency, but never forget: Kids are explorers by nature and sometimes they get into things unintentionally," he says. "You have to be able to stay calm, roll with the punches and try to make smart decisions that may one day save your kid's life."
Emergency Preparations
Although we can't predict when medical emergencies will happen, we can take these preventive measures ahead of time.
>>Phone Numbers
Keep important phone numbers, such as for the Poison Control Center (1-800-222-1222) and your pediatrician, on hand. During an emergency, panic and chaos can make it difficult to remember.
>>Medical Records
Keep an updated record of your child's immunizations, the names of medications and special needs readily available. If you call the Poison Control Center, you will also be asked how much the child weighs.
"Having this kind of information posted on your family's refrigerator can be helpful, especially if the accident occurs when you're not there," says the Poison Control Center's call center nurse supervisor Sarah Bruhn, RN, CSPI. "The babysitter might not know this type of information."
EDITOR'S NOTE: Content should not be used for medical advice, diagnosis or treatment. In case of an emergency, call 911.