Porcini Mushroom Gravy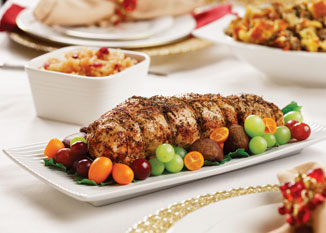 Porcini Mushroom Gravy
The perfect gravy for part of a heart-smart, diabetes-friendly holiday meal.
Ingredients:
0 oz (Ounce) dried porcini mushrooms
2 T (Tablespoon) warm water
1 T (Tablespoon) canola oil
0 c (Cup) white whole-wheat flour
2 c (Cup) fat-free, low-sodium chicken broth
0 t (Teaspoon) salt (optional)
1 t (Teaspoon) onion powder
0 t (Teaspoon) freshly ground black pepper (or to taste)
Instructions:
1. Soak mushrooms in warm water for 5 minutes.
2. In 2-quart saucepan, heat canola oil over medium heat. Whisk in flour until blended and continue stirring until roux is lightly browned and develops nutty aroma.
3. Whisk in broth, optional salt and onion powder. Bring to a gentle boil until just thickened, stirring. Cook and stir for 1 minute. Remove from heat and season with pepper. Add softened mushrooms and any soaking liquid.
4. Purée gravy in food processor or food mill. Return mixture to saucepan. Heat just to a simmer.
Notes:
Photo courtesy of Family Features
Preptime: 5
Source: Family Features
Cooktime: 10 minutes
Ready time: 15 minutes