Platinum Ring Takes Home the Gold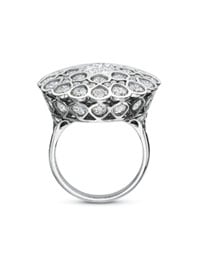 Congrats to Honolulu jewelry designer Jason Dow, who just nabbed a national award for a platinum ring he designed. Dow got a design award from precious-metals supplier Johnson Matthey. Called the "Empress Ring," Dow's winning design features a one-carat center stone and six carats of accent diamonds.
The ring has the airy, intricate style that Dow is known for. The main stone is a size "commonly used for engagement rings, but it's beyond an engagement ring, something an empress would wear," he says, explaining his inspiration. "Platinum is really heavy, so I had to make a design that was as light as possible while still giving it volume."Dow explains that platinum melts at a much higher temperature than gold, so he had to carefully set the diamonds from behind, using a laser welder for precision.
The ring is one-of-a-kind and on display at the Hildgunds at the Four Seasons Maui Wailea. It's $44,975, if you can swing it! If you want to read more about Dow, check out this story I did on him last year.