Picking coffee with the U.S. champion barista, in Waiono Meadows, Kona, Big Island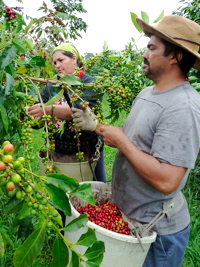 It's drizzling rain in the coffee orchard, but we coffee pickers are a hardy lot.
We're 3,000 feet above the Kona Coast, on a shoot for the new Biting Commentary TV show. (Honolulu Magazine's Biting Commentary with John Heckathorn, presented by Hawaiian Airlines, debuts June 19 on KGMB. More on that in a previous post.)
We include Honolulu Coffee Co.'s Pete Licata (with the beard, below). We met Licata last March when he won the Southwest Regional Barista Competition.
In the months since, he's won the national competition in Houston, coming home with a huge trophy and travel expenses to the world competition next month in Bogota, Colombia.
How do you become the U.S. Champion Barista? Technique, of course. But Licata kicked the competition up a notch.
He traveled up to this row of trees in Waiono Meadows and picked 50-pounds of coffee cherries, processed and roasted the beans himself, so he could demonstrate the whole process from tree to cup.
We are back up here today, with Licata offering me lessons in choosing ripe coffee cherries: "Don't pick the ones that are still green around the stem. Bright red. Don't pick the brown ones either. They're too old."
Just up the row, professional pickers fill whole 25-pound baskets in the time it takes for us to pick a few handfuls.
"I'm not that fast either," says Licata. "It would take me an hour to fill a basket."
Coffee's the only crop where you throw away the fruit and keep the seed. A full 25-pound basket of coffee cherries yields only three and a half pounds of coffee beans. We pick and pick and don't even get a pound's worth.
With us is Kona Coffee & Tea Co.'s Malia Bolton (right). Bolton planted the first 40 acres of this farm in the summer of her sophomore year in high school. It's her parents' land, but it's her farm. Now at age 29, she's one of Kona coffee's young lionesses.
"Kona has dipped in prestige on the Mainland," she says. "It's written off as too expensive and uneven in quality. We want to restore its quality and its reputation."
In only its third year, the coffee from Bolton's farm won the Gevalia Cupping Competition at the Kona Coffee Festival. Under the Kona Coffee & Tea banner, she grows, processes, roasts and sells her own beans.
Licata blended these Waiono Meadows beans with Rusty's Hawaiian coffee from Kau to win the national competition. He's still got a stash, which he's taking to the world competition, facing off against some of the best coffees in South America.
Says Bolton, "We grow some of the best coffee in the world here and thanks to Pete, he's helping us prove that."