Pets, Unleashed
Forget the rail debate; the newest transportation trend has pet owners wheeling their furry friends around town.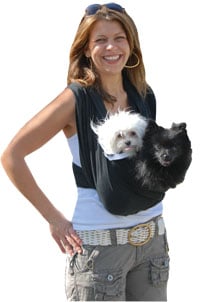 At first, all you notice is a stroller coming your way. You bend over for a little peek of an adorable baby, only to realize it's a … dog?
If this baby bait-and-switch hasn't happened to you yet, it probably will. David Souza, owner of pet store 55 Pawsh Place in Kapolei, says alternatives to the standard collar-and-leash are growing in popularity. "I get calls about them all the time," he says of the pet strollers, which sell out during the summer months and around Christmas.
Does the idea of putting a pet in a stroller seem outlandish? Aileen Wada, the owner of two dachshunds, doesn't think so. "The stroller gives me a chance to get them out of the house. If you were home all day and your husband said: 'Do you want to go to the movies or shopping?' you'd want to get out, right?"
Offices, shopping centers, even campaigning for governor at the roadside, Wada's dogs go everywhere with her. If they were on a leash, these pooches would be tethered outside for her errands. But since pet strollers zip shut, the pups can go more places without raising eyebrows or invoking no-pet policies.

Kyle the cat takes a stroll.
Photo: David Croxford
For puppies and elderly pets, a stroller or front-carrier provides mobility they can't get on four legs. The plaid papoose that holds Bichon puppy Prince Kukuilani allows owner Christina Rose to take him out without worrying he'll be exposed to diseases in pet waste lurking at ground level, before he's finished his vaccinations.
Strollers aren't just for the dogs. "I love it when people gawk, and so does he. He loves the attention," says Karen Scharff of her cat, Kyle. Scharff loads Kyle—often sporting a kitty-size lei—into a stroller to walk the streets of Honolulu. Why? "It's just fun!" she says.
So the next time you pass a bundle in a Baby Bjorn, take a closer look. It could be a pampered pooch.