Personalized Picture Holder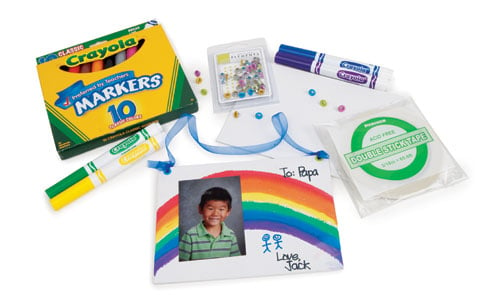 Supplies:
• One 5-inch-by-7-inch canvas panel• Color markers• Pencil• Double-sided tape (Merikan recommended)• Picture to attach• Two eyelets• Crop-a-Dile to make holes for hanging• Ribbon or cording for hanging• Foamies, rhinestones, other embellishments,etc., to add to the frameOptional: Acrylic or watercolor paintSketching
Directions:
1. Encourage your keiki to select a photo he/she likes of himself/herself. School pictures
are perfect for this project.
2. Place the picture on the canvas and have your keiki lightly trace around the picture where he/she wants it to be. This will mark the section of the canvas panel that will later be covered with the picture.
3. Encourage your keiki to draw on the canvas panel. Abstract art for the younger keiki is perfect, as many of them are just learning shapes and colors. Older children might want to draw/paint something more specific.
4. Don't forget to have them "sign" and date (year at minimum), as all artists sign their work. It makes it more valuable and memorable.
5. Use double-sided tape to attach the picture to the canvas panel.
6. Use the Crop-a-Dile/eyelet setter to make a hole near the top left- and top right-hand corners of the canvas panel. Reinforce holes with eyelets.
7. String ribbon or cording through the eyelets. This will allow you to hang the picture frame.
8. If you would like to add more pictures, add eyelets to the bottom left- and right-hand corners so you can attach additional canvas panels below.
Stop by your local Ben Franklin Crafts store for even more ideas and inspirations. You can also pick up your copy of Island Family Magazine at any of the Oahu Ben Franklin stores!