Pearlridge Center's Butterfly Conservatory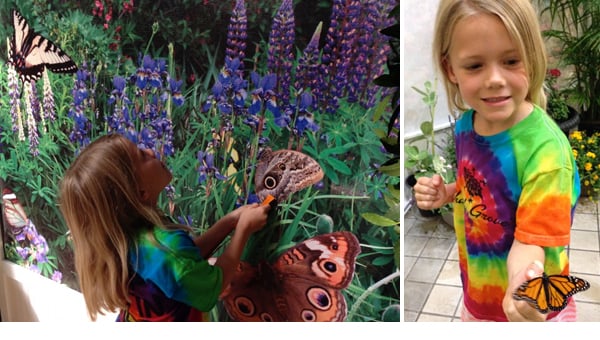 Editor's Note: This article was first published in 2014. Dates, times and workshop information have been updated for 2016.
Guess where we're going today," I announced to my kids in my best unnecessarily-overly-dramatic-mom-voice. They looked up at me uncertainly. "To see lots and lots of REAL. LIVE. BUTTERFLIES." Their faces lit up as if I had said we were going to Disneyland. Their excitement grew and the questions started flying as we headed out to Pearlridge Center's Butterfly Conservatory exhibit.
My kids were thrilled to get up close to more than 150 live Monarch, Citrus Swallowtail and Gulf Fritillary butterflies, which flutter freely overhead and around the flowers in the small, warm room. In bins below, you can check out more in various stages of their life cycle, from caterpillar to chrysalis. out to Pearlridge Center's new Butterfly Conservatory exhibit.
Guides will bring in up to 20 visitors about every 10 to 15 minutes. First, they'll run down the rules: these butterflies are extremely fragile, with very delicate legs. You may not grab or swat at them, and you need to watch where you step. No touching is allowed, unless they happen to land on you, which is likely, so you just need to be extra gentle. This is the fun part. The butterflies are attracted to bright colors, especially red, yellow and green. My daughter happened to be wearing a bright tie-dye T-shirt, which attracted one right to the top of her head, much to her delight and shock. If this happens to you or your child, the key is to stay calm. "If you're Zen, they'll be Zen," a guide told me. The butterflies tend to get more active when more people are around.
Our friendly guide Derek taught us all about the butterfly life cycle, how to tell a male from female (by spots and coloring) and what they prefer in their feeders (fruit and Gatorade – who knew?) and the caterpillars' favorite plant (the crown flower).
He also told me the exhibit's busiest time is usually 10am – 1pm, so come later if you want a smaller crowd. There's a gift area full of butterfly souvenirs galore – games, puzzles, toys, clothes, nets, magnifying glasses, and more. There's also a free coloring and craft table, which was a big hit with the kids. Ella and Charlie happily created their own hanging butterfly mobiles.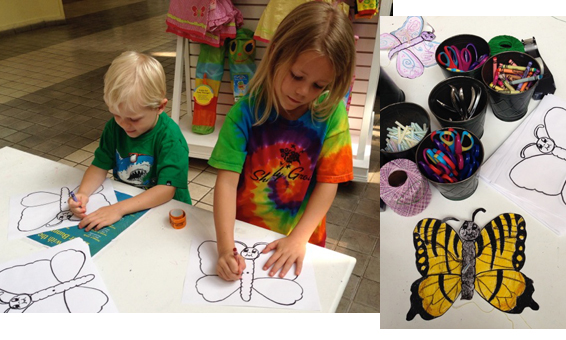 New for 2016, kids can sit for story time at the Conservatory at 11 a.m., 1 p.m. and 6 p.m. Monday through Saturday, 1 and 5 p.m. on Sunday. You can also take classes to find out how to turn your garden into a butterfly magnet. Workshops are at 9:30 a.m. on Saturdays, 1 and 3 p.m. on Sundays, beginning on March 5. Buy a ticket online ahead of time.
Field trips are also available for classes. The one-hour curriculum includes a butterfly encounter and activities for $4 a student.
To continue the springtime fun, you can take pics with the Easter Bunny right next door starting on March 5.
The Butterfly Conservatory exhibit runs February 27 through March 28 in Pearlridge Uptown Center Court. Mondays through Saturdays, 10 a.m to 8 p.m. Sundays, 10 a.m. to 6 p.m. It will be closed on Easter Sunday. Admission is $4 per person; children under 2 years are free with a paying adult. For more information, visit pearlridgeonline.com.