Hawai'i Parent to Parent: School Daze
This year I'm adding one thing to Kennedy's long back-to-school list: more sleep.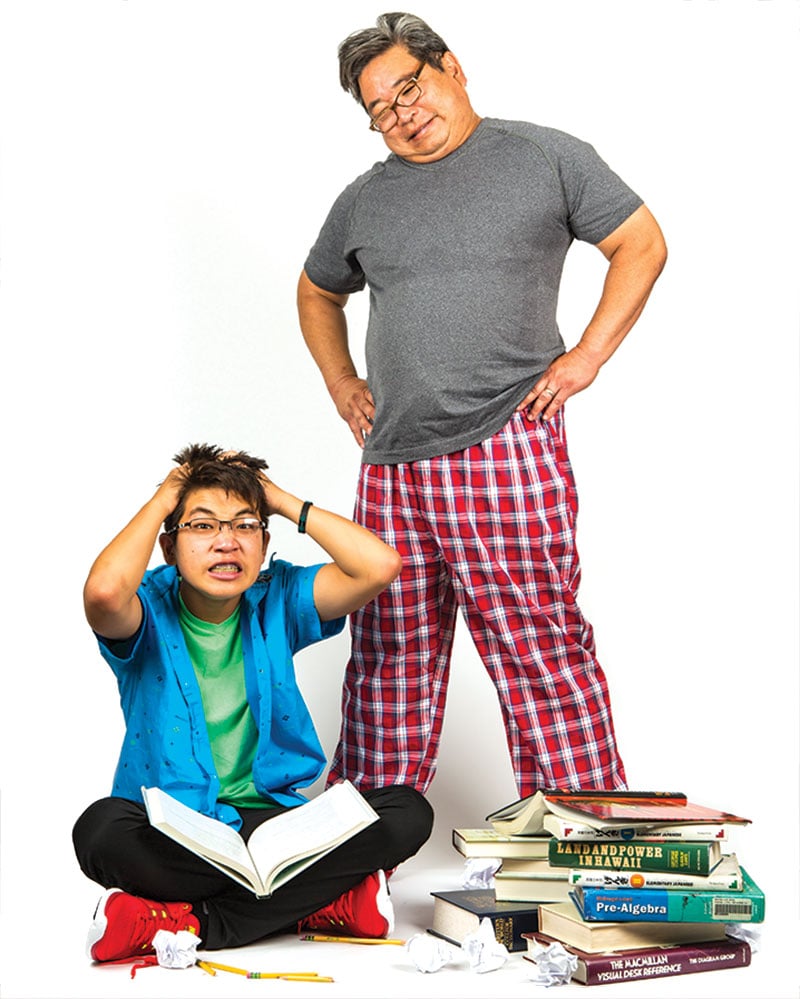 Heavy-duty backpack able to hold 50 pounds of books and papers, a pile of rocks or one homework assignment. Check. One pencil box and one pencil case for two dozen soon-to-be-misplaced No. 2 pencils. Check. New basketball-ready wardrobe with "Air," "Under," "Swag" or any number of slang words and phrases from the Urban Dictionary. Check.
One day-glow pair of NBA player-named, sweatshop-assembled basketball shoes that cost more than my car. Check.  iPad. iPhone. MacBook. Check. Check. Overdrawn check.
Getting kids ready for school nowadays is a complicated and expensive affair. When I was my son Kennedy's age, getting ready for school consisted of one dreaded visit to Ala Moana Shopping Center: First to Sears to try on dozens of pairs of Toughskins and then to Longs Drugs for a couple of composition books and Pee-Chee folders. Somewhere along the way would be a stop at Robins Shoe Store before returning home to watch the Jerry Lewis Telethon and mourn the end of summer. Today, in addition to all the shopping, child experts recommend that parents ease the back-to-school transition with checklists of morning routines, a week's worth of pre-packed school lunches and a school visit a week or two before classes start. Phew!
But, this year, I'm actually going to add one thing to Kennedy's long list of preparations: more sleep. Sure, a big reason Kennedy is more Dr. Jekyll than Mr. Hyde during the summer is that it is the summer–no homework, deadlines or schoolyard pressures. However, the extra hour of sleep he gets from June through August seems to result in a happier, healthier and more alert kid. According to the National Sleep Foundation, children who don't get enough sleep experience problems with attention, memory consolidation and impulse control. (Sound familiar?) This can result in poor academic performance, social problems and even obesity.
How much sleep is enough? According to the foundation, preschoolers should be getting between 10 and 13 hours of sleep, grade-school kids about nine to 11 hours, teenagers about eight to 10 hours and young adults about seven to nine hours, about the same as adults. Kennedy's summertime sleep schedule puts him in the lower end of the range for teenagers. During the school year, Kennedy will sleep in as late as noon on weekends, but it can make getting up early on Mondays and Tuesdays that much harder.
Getting an extra hour of sleep won't be easy. After basketball or swim practice, dinner and homework, Kennedy is going to bed after 10 o'clock. Who knows when he actually falls asleep? Figuring out how to get that extra hour is going to take a lot of planning and discipline for both of us, because I'm nowhere near my recommended range of sleep times. So, for me, it will be: Walk the dog. Check. Clean up the kitchen. Check. Put down the TV remote. Check.