Hawai'i Parent to Parent: The Real Sunday Funday
No paddleboarding into the sunset. My weekends are spent at Costco.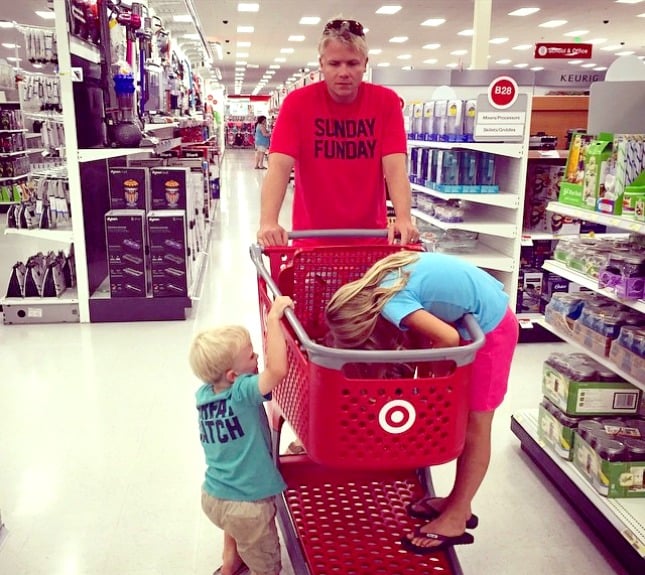 Another Sunday, another day of scrolling through Instagram''s amazing #SundayFunday pics by my devastatingly cool friends, or just people I'm creeping on that I wish were friends.
Maybe I follow too many Hawai'i-based photographers, but some days it seems like everyone is striking yoga poses atop waterfalls at sunrise. Or they're cliff-jumping their thong-clad booties into a majestic sea of organic Kombucha tea. Or they're leisurely feasting on artisanal oyster smoothies, or Crossfitting their way to a paleo brunch at the top of Koko Head. Or whatever. All captioned, of course, with a grandiose inspirational quote to match.
Not that there's anything wrong with that. [Note: Read the next sentence in your best Grandpa Simpson voice:] But back in my day, before I had kids and Instagram, Sunday Funday was just called Sunday! There was no pressure to be epic!
My point is, while those gorgeous, young, free, childless cherubs are out cold-pressing their own coconut water upon horseback, I'm usually with my family of four at the Iwilei Costco, buying Pringles in bulk. Clearly, Instagram has given me a complex that my Sundays are't quite Funday enough.
I didn't even care about this, or even think about it, until the day my husband came home with a stupid Sunday Funday T-shirt as a joke. He makes a point to wear it during our most boring errands. Hey Instagram, here's my hot mess of a family slogging through a big-box store, looking for the 200-pack of dishwasher pods. I'm just so #blessed.
SEE ALSO: Hawai'i Parent to Parent: 25 Inventions That Need to Exist
Not that we never have any fun. We do live in Hawai'i, after all, and beach trips and boat rides are the norm on most weekends. But when we do plan a big, blowout, mega-fun-day, and not everyone in the fam is feeling it, the outing is almost certain to end in a meltdown. The forced Sunday Funday is the worst kind, and after these big adventures, everyone usually ends up exhausted.
But the best things always happen when you stop trying so hard.
On a recent, particularly lazy Sunday, I realized all four of us were zoning out on four different screens: My husband was on his laptop, I was on my phone, my 8-year-old daughter was on her iPad, and my 6-year-old son was watching TV. Total zombie apocalypse.
Acknowledging the absurdity, we turned off all the devices, and sat down for a family game of cards. Good ol' fashioned, squeaky-clean fun. The kids protested for a second, but when my husband began declaring "Sunday Funday!" they perked up. We cranked up some cheesy kid jams, poured them some pink lemonade, and played a game of Old Maid.
You'd think my kids had won the lottery. Sunday Funday suddenly meant getting whatever treats they wanted, and we ran with it.
Can we have more pink lemonade? "YES! Sunday Funday!" Can we eat nothing but Cheetos and M&M's? "Sure, Sunday Funday!" An extra scoop of ice cream for dessert? "Of course, Sunday Funday!" I got in on the action, too. Why yes, I'll partake in an afternoon cocktail or two. Because Sunday Funday.
SEE ALSO: Parent to Parent: A Mother's Day Dream
I got all warm and fuzzy, and it wasn't just the cocktail. Epiphany alert! I realized Sunday Funday isn't about WHAT you do. It's about whether you're truly having fun. (Duh, Captain Obvious.) And I realized that I actually was. Not running errands, not doing anything Instagram-worthy. Just being together was all we needed. ["The More You Know" shooting star flies overhead here.]
Before I know it, my kids will grow up and have their own Sunday Fundays, which of course will have nothing to do with their parents. They'll have their own Instagram (or whatever it will be in 10 years) with Ella, perhaps, posting skydiving pics with her #squad, and Charlie backflipping off waterfalls with his #bros, and I'll be longing for these squeaky-clean family Sunday Fundays of old. Until then, I will cherish the Old Maid and pink lemonade.
---
Ashley de Coligny is a mom of an 8-year-old future World Cup champ and a 6-year-old aspiring jedi knight (or leader of the dark side of the Force). She is a prolific writer, witty Facebook user and Macgyver-esque Halloween costume expert who is always seeking fun for the whole family, a clean spot in her mom-mobile and a moment of silence. The best parenting advice she's ever received is "Take a hot shower and drink a glass of wine."