Palolo's Tree House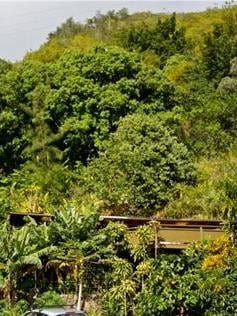 If you're familiar with the phrases "compostable toilet," "off the grid" and "water catchment system," then this uber-green house in the very back of Palolo Valley may just be your slice of real estate heaven. The "tree house," which is not actually a legal living structure—it's zoned as a screened porch—is situated on 6.33 acres, including 122 feet of mountaintop at the property's apex, whole sections of which are planted with papaya, mango, lychee, banana, avocado, lime, lemon, grapefruit and breadfruit trees, as well as rosemary, heather, heliconia and ginger plants. George of the Jungle would be jealous.
According to listing agent John Stallings, the owner, an engineer, has lived there about seven years and, during that time, paid Honolulu architect Geoff Lewis $35,000 to draw up architectural plans for an eco-friendly home for the site, which are included in the price of purchase, and spent an additional $5,000 or so pulling the necessary permits. "Geoff Lewis is a good friend of the owner's, and he spent a fair amount of time at the property taking in the light patterns and wind flow, and came up with a design," says Stallings. The house is a basic, elevated, wood structure with a single bedroom, barebones kitchen, lanai space with city and ocean views and a single bathroom with a composting toilet (waste stored in a tank beneath the toilet is mixed with wood shavings to produce a fertilizer material that is put out on the land). The green treatment doesn't stop with the bathroom: The house also has a water catchment system and photovoltaic panels. "It's kind of off-the-grid style," says Stallings. "They're not hooked up to any city utilities."
The property has been on the market for just over two months, and already has two serious buyers, says Stallings, both of whom intend to continue living in the tree house.
Money talk: The tree house property is listed at $850,000.
Contact: John Stallings, Keller Williams Realty. 294-1794, johns@oahusbesthomes.com. www.oahusbesthomes.com.