Paiko Drive Perfection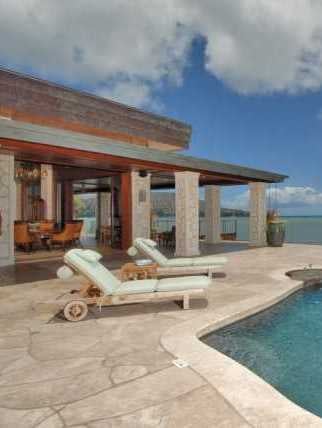 I first wrote about this house, which was featured on the HGTV show Designer's Challenge in 2008, a few years ago for another magazine, and I'm still just as enamored with its idyllic, away-from-it-all location—at the end of a narrow, dirt drive surrounded by the Paiko Lagoon Bird Sanctuary and nearby conservation lands. Back then, I wrote in my notes that the house "doesn't so much rise up to greet you as poke its head through the bushes. It's a very subtle design, with a flat roof that echoes the linear line of the ocean and the horizon." How very poetic of me. But it's true: The house, which was designed by the owners (with drawing assistance from a local architect) with interior design by Rick and Tiare Cowan of Archipelago Hawaii, is an example of how a home can have a presence while still demonstrating restraint. "We lived in the old house for two or three years, studying the trade winds, views, topography and so forth, and the likes and dislikes of the prior architecture," says homeowner Dr. Garrett Saikley. "And we decided that because of the location, we needed a house that would integrate well with the surrounding layout. We didn't want a Kahala McMansion on the site. We wanted something that we thought Frank Lloyd Wright would design and put on this lot."
To help blend the house with its oceanfront surrounds, the designers turned to such natural materials as white coral stone for exterior and some interior walls, a lava rock wall that wraps below the entryway, as well as mahogany woodwork, honed marble floors throughout and lauhala ceiling treatments. Further connecting the house to its natural surrounds is a large deck that's only 10 feet from the water, doors on two sides of the great room that slide open to access the expansive covered lanais (huge overhangs also help protect the exposed interior spaces from rain) and, of course, with views like this, windows aplenty. The Studio Becker-outfitted kitchen is every home cook's dream (the homeowner is something of a foodie), with burl cherry cabinets, dark-green marble counters and top-of-the-line appliances.
The home has six full baths and four bedrooms, including the gigantic master suite, a soothing, celadon-green space with doors that slide open to reveal ocean views, and what is probably one of the most fabulous closets I've ever stepped foot in. The closet, which is the size of some Waikiki studio apartments, serves as an entrance to the bedroom and is designed to feel more like a sitting room than a closet. To achieve the luxurious, dressing-room feel, the designers used rich mahogany cabinetry, strategic lighting (back-lit cabinets, an ornate chandelier) and green marble countertops. A sitting room that adjoins the master suite pulls double-duty as a laundry room, with a washer and dryer cleverly concealed by cabinetry.
According to listing agent Anne Perry, Saikley and his partner, Robert Carpenter, are testing the market waters. "They love the house, so if someone wants to come in and love it as much as they do, they'll sell it," says Perry. "They built it as a retirement home, but they've decided that they'd like to travel more."
Money talk: The house is listed for $9,750,000.
Contact: Anne Perry, Coldwell Banker Pacific Properties, 748-3474, annep@cbpacific.com. www.cbpacific.com.