Padovani's Back! New Padovani's Grill, Honolulu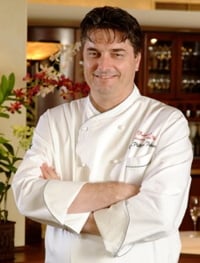 In case your head is spinning, here's the rundown. In 2007, attorney Keith Kiuchi and chefs Philippe Padovani and Donato Loperfido turned the old L'Uraku location on Kapiolani into Elua. Elua means two, because both chefs, one French, the other Italian, would be cooking. No one questions Padovani's and Donato's separate talents, but it did not seem a marriage made in heaven.
Padovani proceeded to land two long-term consulting gigs, in China and then in Mauritius, so by the end of 2009, Donato solo had transformed the restaurant into Sapori. The restaurant got good reviews, (see ours), but never much of a following.
By the end of 2010, Donato was pau with Sapori. "I am positively and completely out of the restaurant business," he says, "spending more time with my family and focusing on Flavors of Italy." Flavors of Italy is Donato's wine and high-end beer wholesale business.
With Donato gone, there was still the lease to contend with. The landlord wanted a restaurant in the luxury condo tower. So Padovani, who of course has his booming chocolate business, came back into the fray.
He came up with a simple concept: a grill. Steaks, seafood, sort of a less expensive Ruth's Chris, with a French touch.
A simple grill may seem a stretch to those who remember the elaborate fare of his Padovani's Bistro, but back in the early '90s, Padovani presided over one of the best grills I've ever encountered, at the Ritz-Carlton Mauna Lani (now the Fairmount Orchid).
The food at the new restaurant? Close to perfect. There are French touches on the appetizer menu, like a duck foie gras pate with haricot vert and asparagus in a light vinaigrette (left). And there's gnocchi light as clouds in a totally controlled fresh tomato and mushroom sauce.
Here's the kicker: great Black Angus New York steaks at $28. Because the chef is French, the sauces are made a la minute, a red wine truffle sauce, for instance, that actually tastes like truffles. Or a Bearnaise so well-wrought that it flows like slow lava out of its pitcher. "Making a Bearnaise this good is as simple as catching a bullet in your teeth," said my dining companion.
Sides are better than your standard steakhouse sides, as well: a fricassee of Hamakua mushrooms, fresh haricot vert, roasted fingerling potatoes.
Best of all: There's a cheese cart for after dinner, only $18, with a Roquefort, a triple cream and more.
Danny Matsushita, who used to work for Padovani's Bistro, drove by, saw Philippe was back in the kitchen and signed up immediately to work the floor. He matched the courses with wines, like the Jean Reverdy, Sancerre, La Reine Blanche with the appetizers and the Provenance merlot with the steak.
He couldn't find a wine in current stock to match the cheese, so he mixed us up a cocktail of his own invention, the Abunai. Smooth, nice balance, but watch out: abunai means dangerous.
The dining room has fewer seats, more space, more round tables, and an entirely pleasant, elegant but not intimidating look. This space hasn't sustained a good restaurant since the glory days of L'Uraku, but this one, if there's any justice, will attract a following. Welcome back, Philippe.
Padovani's Grill, lunch weekdays 11:30 a.m.-2 p.m., dinner nightly except Sunday 5:30 to 10 p.m., Uraku Building, 1341 Kapiolani Blvd., (808) 955-3501, padovanirestaurants.com